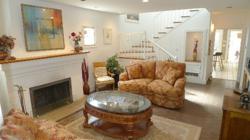 Los Angeles, CA (PRWEB) July 23, 2011
Just in time for the Venice Beach Music Festival, the English Country House by the Beach Offers 15% off to Tenants who Book for a Month.
Venice Beach has long been known for its hip, edgy arts and music scene. Its iconic canals, beaches and Ocean Front Walk have brought an added dimension to the greater LA scene and serve as a rich, diverse alternative to the glitz and glamour of Hollywood.
In August, Venice explodes with a flurry of cultural events, most notably the 5th Annual Venice Beach Music Festival, complimented by additional events such as the Venice Art Crawl.
The English Country House two blocks from the Beach is opening its doors for the month of August / September to those interested in taking advantage of all that Venice Beach has to offer by providing renters with a 15% discount if they rent for a month or longer anytime after August 11th, 2011.
About the English Country House by the Beach
The Country House was originally built in 1922 is a fully restored Modern upgrade English Country style home with 4 bedrooms, 3 baths, 2 fireplaces, a private roof deck, garage and 3 private parking spaces, perfect for a family/group getaway or a company retreat.
To book the House today, visit us on the Web at http://www.homeaway.com/vacation-rental/p334810 or call Robert at (323) 656-7979.
###