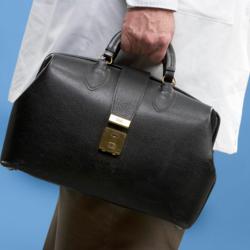 The high cost of medical school and resulting debt are major challenges for many prospective medical students
Lubbock, TX (PRWEB) July 12, 2011
Texas Tech University Health Sciences Center announces first-of-its-kind program to address national shortage of primary care physicians.
In an effort to address the U.S. shortage of primary care physicians, Texas Tech University Health Sciences Center School of Medicine (TTUHSC SOM) today announced the first three-year medical degree ever approved by the nationally recognized accrediting authority for medical education. The new Family Medicine Accelerated Track (FMAT) program will allow primary care students at the TTUHSC SOM to complete their degree in three years at half of the cost of the standard four-year program.
"This is a program of national importance as we work to ensure that all Americans will have access to a primary care physician, said Steven Berk, M.D., dean of the TTUHSC SOM. "Texas Tech is committed to taking the first steps in changing how medical schools attract and educate future family medicine doctors. This program demonstrates that the TTUHSC SOM is contributing to health care education nationally as well as locally."
According to the American Academy of Family Physicians (AAFP), since 1997, U.S. medical school graduate matches in family medicine and general internal medicine programs have fallen by nearly 50 percent. A 2006 AAFP Workforce Study estimated that the U.S. will need approximately 39,000 more family physicians by 2020.
Michael Ragain, M.D., Braddock Chair of the TTUHSC Department of Family and Community Medicine, said the new program would enable outstanding family medicine students to reduce the length of medical school by 25 percent and cut their debt in half.
"The high cost of medical school and resulting debt are major challenges for many prospective medical students," Ragain said. "Our program addresses debt on two levels, first by shortening the program from four to three years, and second, by providing scholarships to all qualifying students. Training primary care physicians is a national issue that targets both rural and urban areas. With programs such as this, we can double the number of primary care physicians available to care for the U.S. population."
Texas Tech's FMAT curriculum is unique and includes early introduction to clinical care in a Family Medicine Clerkship that spans the entire second year of the program. Simon Williams, Ph.D., associate dean for TTUHSC Academic Affairs, said the curriculum is structured to provide an exceptional education.
"The program design ensures that the educational experience of each student will satisfy all of the requirements for awarding a degree of Doctor of Medicine," Williams said. "The students will participate in additional activities during the revised three-year curriculum to acquire the necessary knowledge and skills to be fully qualified and excellent primary care physicians."
The TTUHSC SOM FMAT program was approved by the Liaison Committee on Medical Education (LCME), the nationally recognized accrediting authority for medical education programs leading to the M.D. degree in U.S. and Canadian medical schools. The Association of American Medical Colleges and the American Medical Association sponsor the LCME.
With the LCME approval, the TTUHSC SOM will begin accepting FMAT students from the incoming class this summer. TTUHSC SOM has presented its approved program to the national Council of Deans and other medical schools are expected to pursue similar programs in the future.
Contact:
Suzanna Cisneros Martinez
suzanna.martinez(at)ttuhsc(dot)edu
(806) 743-2143
###