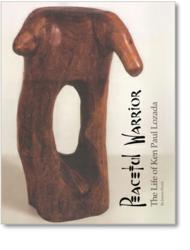 His arboreal creations [are] messengers about the sacred nature all humans possesses within.
Half Moon Bay, CA (PRWEB) July 25, 2011
Zenjo Press today announced the release of its new book, PEACEFUL WARRIOR: THE LIFE OF KEN PAUL LOZADA. Filled with beautiful photographs and sculpture dialogues, it explores the art and spirituality of the iconic creator of the gravity-defying tree sculptures standing guard at Main Street in Half Moon Bay, California.
Of those once drawn to Ken Paul Lozada's sculpture garden to get a closer look at pieces of wood he has given a new life with shiny, undulating lines, cavernous abysses, and chiseled squares, many found their initial interest giving way to a sense of wanting to know more about their creator. A biographical glimpse at the sculptor and author of The Seven Treasures of Life (as well as thousands of pages worth of soul messages), includes family photos spanning five generations.
A near-death experience after a car accident left Ken, who spent many years in an orphanage, with a new understanding about the gift of life which he has since sought to share with others--revealing his arboreal creations to be messengers about the sacred nature all humans possesses within. He has surrendered to complete honesty and openness, while becoming a conveyor of truth. His fragments of wood become symbols of restoration as these once-majestic trees that have been discarded get a new lease on life.
About the author:
Joanne Ehrich made her debut as author in 2006 with the release of critically acclaimed KOALAS: MOVING PORTRAITS OF SERENITY, a book of her writings and photographs by 120 photographers from 24 countries. Since she has published in excess of twelve books to make a contribution to wildlife preservation under her Koala Jo Publishing label. In 2010, she founded Zenjo Press to expand the offerings to the genres of art and spirituality.
Availability:
To find out more about PEACEFUL WARRIOR: THE LIFE OF KEN PAUL LOZADA, to download a free book excerpt, or purchase a hardcover copy visit publisher's website at http://www.zenjopress.com. Softcover editions are available at, Ocean Books, Harbor Books & Gallery, and Bay Book Company. Book signings are scheduled for August 18th, 2011, at 7:00 PM in Cameron's Inn and August 20th, 1:00 to 3:00 PM in Princeton's Harbor Books & Gallery.
# # #