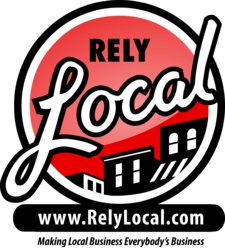 RelyLocal continues to grow quickly as the company prepares to launch in 937 new communities - looking for new partners to head up the local campaigns.
Bend, OR (PRWEB) July 21, 2011
RelyLocal, LLC, a privately owned Oregon company reports a 325% increase in Q2 revenues, compared to the same period in 2010.
"Obviously, we are quite pleased," noted company co-Founder, Steve Ramsey. "But, we had actually scaled back on launching any new territories in Q2 in an effort to control the growth while we focused on the development of new programs that will go public in Q3."
RelyLocal began as a small "buy local" campaign, offering low-cost marketing services to local businesses in Bend, OR. Within months, the company began to receive considerable interest from entrepreneurs who wanted to license the RelyLocal business model in their areas. Within the first year, RelyLocal had granted over 150 licenses, operating in more than 550 cities across the U.S., while creating approximately 600 new local jobs, and supporting almost local 80,000 businesses.
Ramsey admits, "We'd love to take all of the credit, but the ongoing growth is really because of the amazing work that our partners are doing in their communities! From Oympia,WA to Parker, CO, to Asheville, NC, we have found some fantastic people to partner with! At the end of the day, this is their business, not ours - and the pride of ownership and creativity really shows!!"
RelyLocal is now searching for 937 new partners to launch the next phase of expansion, covering more than 1,200 cities nationwide. Previously, the company's growth had mostly been the result of word-of-mouth referrals from existing partners.
After receiving hundreds of inquiries a week, RelyLocal has launched a new self-guided "Applications" section to their national web site that includes a series of detailed overviews, copies of the licensing agreements, along with a simplified process to apply for a RelyLocal license in their areas.
"We aren't looking for get-rich-quick sales people," says Ramsey. "Our goal has always been to affect change in the lives of our partners and communities. That's why we are always on the lookout for community advocates who want to make a real long-term difference in their own lives and in their communities."
# # #