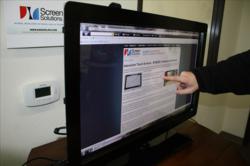 Turn any digital display into a touch screen in minutes
Roseville, CA (PRWEB) July 28, 2011
Screen Solutions International (SSI), the leading provider of quality projection surfaces and touch screen displays announce the debut of the company's newest multi-touch screen and touch screen overlay displays. While many assumed that interactive touchscreen bezels and thru glass films were far into the future, SSI is bringing this advanced technology into the present and is transforming digital displays into interactive multi-touch screens.
Used in a variety of markets, a multi-touch display is suited for educational and university environments, as well as hotel displays and large campus style settings for its usability and functionality. No longer considered a fad, students, professors and consumers can be more involved and interactive with their displays. Working well with LCD, plasma, LED and rear projection screens, a USB connection, one power connection, and included software are all it takes to turn one or two fingers into a computer mouse.
"We're excited by the reception we're receiving from our cutting edge technology, especially from the educational environment as well as the large corporate AV market, and we're delighted to be in the forefront of this interactive technology that turns existing digital displays into interactive touch screens," SSI Vice President of Sales Robert Krause said. "We're also happy to report that it's simple to set up with the supplied software.
The touch screen overlay has infrared (IR) technologies that sense the contact from one finger with extreme accuracy and an incredible response rate. The IR bezels are the newer of two touch options and are offered in dual, six and 32-point touch options, allowing multiple users and critical accuracy demanded by AV professionals. The technology allows users to mimic throwing actions and resize images on the screen with two fingers. In addition, both IR bezels and touch screen overlays can be used with any projection surface including adhesive rear projection films and rigid rear projection screens.
Available sizes start at 30" and increase to a maximum 200" widescreen. Custom sizes are available for special orders. The groundbreaking innovation offers the best in thru-glass touch foil and interactive technology as it gives users the opportunity to interact with digital signage which is generally one sided. Enjoyed in the educational, trade show, retail and corporate markets, the only limit to the huge range of touch applications is ones imagination. To learn more or to order multi touch screen bezels and thru glass film technology, visit http://www.ssidisplays.com, contact the company by phone at 888-631-5880 or via email at ssisales(at)ssidisplays(dot)com
About the Company:
Screen Solutions International supplies quality projection surfaces, displays and touch foils to dealers, system integrators and digital signage partners in areas such as education, retail, business, entertainment, exhibition and many other digital out-of-home environments. Headquartered in Roseville, CA with satellite offices in Florida, the East Coast and a new office opening soon in Sweden, SSI offers cutting edge equipment and highly efficient procedures. Whether using projection surfaces for advertising, display, touch screen tables or digital activities, multi-touch screen solutions are changing how businesses and educational environments interact.
Contact Info
Mr. Robert Krause, VP of Sales
888-631-5880 or email: ssisales(at)ssidisplays(dot)com
###