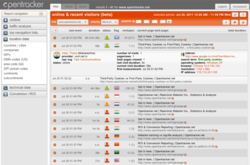 If you need to benefit from real-time analysis and api flexibility, we are your solution.
Amsterdam, Netherlands (PRWEB) July 27, 2011
Opentracker's revamped platform, OT Blaze, incorporates two years of feedback-driven development and is the most significant upgrade of Opentracker's reporting system since the company began delivering quality web statistics. A video demonstration of the new reporting interface is located here: http://tiny.cc/OTBlaze
"We've taken the best new technologies available and rebuilt from the ground-up," said Eddie Moojen, CEO. "If you need to benefit from real-time analysis and api flexibility, we are your solution."
The refurbished system, now available to all Opentracker users at no additional cost, offers an optimized engine, and a simplified, redesigned interface in which results can be highly customized.
Opentracker doesn't believe in generic tracking, and recognizes every click as unique. Each click is presented with individual visitor profile data.
OT Blaze is the culmination of a decade of research and development, incorporating from hundreds of webmasters and thousands of clients. This new release also represents a transformation into a web application and DBaaS (Database as a Service) provider. The company's next releases will be app tracking, and scalable real-time web-based event logging.
The primary features of OT Blaze: api, jquery, infinite scroll, cloud-processing, and ajax components. Perhaps most importantly the system now boasts capacity for infinite growth, dubbed 'scalable analytics'.
Opentracker began displaying visitors online in real-time, along with visitor profiles and clickstream-drilldown in 2003. The model become an indispensable tool for website managers and this upgrade builds on that initial success.
With 10 years experience in website tracking and statistics innovation, Opentracker continues to pioneer technology and remain at the forefront of real-time data analysis. The company's hallmark is simple, intuitive, and easy-to-read reporting interfaces.
###