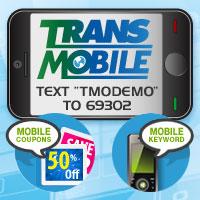 "Imagine going back in time and being one of the first companies to advertise via Email or on a Website like Google or Yahoo."
Boca Raton, FL (PRWEB) July 16, 2011
TransMobile Online, a leading mobile marketing company, is revolutionizing the world of mobile marketing. By offering a comprehensive, all-in-one mobile marketing plan, TransMobile provides a unique method of delivering Text, Email, and Instant Messages while simultaneously posting information via Facebook, Twitter, and other social media outlets. This distinctive approach to mobile marketing has placed TransMobile at the forefront of the email and mobile text marketing revolution.
TransMobile Online, behind the leadership of Co-Founder Craig Antonucci, has been offering successful mobile messaging solutions to businesses since 2010. Antonucci summarizes TransMobile's strategy like this, "Imagine going back in time and being one of the first companies to advertise via Email or on a Website like Google or Yahoo. The growth that those sites have seen over the last several years is phenomenal and investing your advertising dollars in that manner would have created huge returns. Now, fast forward to 2011. There are over 5.3 billion mobile phone subscribers. That's over 75% of the world! What we're able to do with TransMobile Online is take your marketing directly into that huge market, which allows you to get the most bang for your buck. It also allows you to interact with your customers in an environment that they're comfortable with, which puts them at ease."
TransMobile Online's experience with text marketing, short code 69302, sms marketing, mass sms advertising, sms service, and sms bulk marketing, positions them as a leader among other similar companies. Antonucci explains, "What we've come to understand, is that mobile marketing is so much more than just text marketing, a text messaging service, or a text blast to mobile devices. Mass text messaging is only one component in a successful mobile marketing strategy. What we offer is mobile marketing that embraces every form of mobile customer contact. It doesn't matter if it's text message marketing, Facebook, Twitter, MySpace, or any other form of social media, we hit it."
This approach to mobile marketing reaches customers at a much more personal level. While some businesses or organizations might feel that mobile marketing techniques are invasive or might become a nuisance, the reality is that consumers are always looking for a good deal. Companies like Groupon and Living Social have taken advantage of this and are flourishing because they offer distinct ways for businesses to advertise their specials.
TransMobile Online offers a very similar approach. By creating a mobile marketing plan that works seamlessly to capture customer data while simultaneously sending direct response campaigns for promotions, coupons, sales alerts, appointment reminders, and important news, TransMobile Online is able to create a lasting and mutually beneficial relationship between a business and its customers.
If you're wondering how TransMobile Online's approach to mobile marketing can help your business, just take a look at the following benefits:
Mobile marketing is convenient. Almost everyone has a mobile device. They're easy to use, and most people are delighted to use their mobile phones for everything from making calls to purchasing an item at an online boutique or standard brick and mortar storefront.
Mobile marketing is personal. Think about how hard it would be for you to part with your mobile device. It's a very personal piece of property and most of us are always connected to it in some manner. In fact, studies show that 91% of mobile users keep their phone within one-meter of their reach at all times.
Mobile marketing is fast and creates urgency. Mobile text service and text marketing are two of the fastest ways to reach customers. There's no need to wait for a radio ad to be produced. The advertisement doesn't have to be sent off to the printer or wait for the designer to create it. A quick text message to your customers creates a sense of urgency that helps promote those special offers on a slow day or maybe it helps remind people of the daily lunch special.
Mobile marketing is green. Nearly all of your customers are environmentally savvy or are beginning to recognize the importance of helping the environment. Consider the fact that mobile marketing doesn't create a wasteful paper trail. There are no envelopes that are never opened, nor are there unread flyers that are tossed in the trash bin.
TransMobile Online's unique approach to mobile marketing is cost-effective. For the same price other companies charge for email or mobile text marketing, TransMobile allows you to upgrade to a service that integrates multiple platforms for delivering your advertisements.
You'll receive the latest in Multi-Channel Communications and you'll benefit from increased response rates, brand awareness, and a return on your investment simply by using a single Web-based platform that brings together every popular messaging channel. TransMobile will set up an individualized mobile marketing strategy for each business or organization. In short, TransMobile will help your company acquire new sales and relationships while keeping your current business and customer relationships strong.
"Bringing your business mobile sounds overwhelming and all of us at TransMobile understand that. Our goal is to bring our clients into the mobile marketing world as quickly and cost-effectively as possible," says Antonucci.
If your business or organization is looking to increase its customer base and develop rock-solid relationships with customers, you need to start the free trial program today. No payment information is required. In fact, all you have to do is follow three easy steps:
1. Visit http://www.TransMobileOnline.com and use the promo code "PRWeb" to start your free trial account.
2. Speak with a dedicated support representative at (800) 604-1830 to customize a marketing strategy.
3. Begin collecting customer data for new marketing campaigns and start growing today!
TransMobile Online is a leading mobile marketing company that works with businesses, startups, non-profit organizations and individuals to provide a customized mobile marketing solution that will fit your customers and your budget. Whether your business requires a short-term or long-term mobile marketing plan, the staff at TransMobile Online has the ability to create a unique and successful solution.
More information on TransMobile Online can be found at http://www.transmobileonline.com.
CONTACT:
Craig Antonucci
TransMobile Online
PH: 800-604-1830
Or via online form at: http://www.transmobileonline.com/main/contactus.php
###