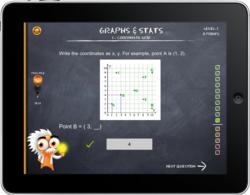 Create a meaningful, and even addictively fun, educational experience for all ages.
(PRWEB) July 07, 2011
A Paris-based startup, eduPad, has designed a unique technology that enables anyone to publish collections of interactive exercises to tactile learning apps for iPad. eduPad provides simple ways to integrate existing educational activities into popular handheld devices via web interfaces and/or file transfers. The standardized process requires no development, no upfront costs, and its attractive business models range from technology licensing to revenue sharing.
The eduPad solution is currently available for iPad. Android, iPod Touch, and iPhone versions will be released soon and will be included in the basic platform for publishers.
Each eduPad module covers one subject for one school year. eduPad apps typically gather between 1,500 and 6,000 exercises, creating by far the largest educational database in the Apple App Store. The exercises are stored on a local database on the device, resulting in an app that doesn't require an Internet connection and can be used anywhere -- especially in class. This independent functionality eliminates concerns over network issues, one of teachers' most frequently cited and practiced reasons not to use IT technology in the classroom. Reference content is instead stored on cloud servers and synched with the apps on mobile devices in the background whenever an Internet connection is available, thus guaranteeing that the apps content is always up to date.
The eduPad solution includes advanced game dynamics and links to social networks, making the apps attractive and engaging to children and students.
eduPad has released 6 apps for iPad under its creative iTooch brand, available now in the App Store. "We're thrilled with the feedback we've received so far, especially from children," says eduPad.com co-founder Jérôme Serre. "We believe eduPad presents a tremendous opportunity to create meaningful, and even addictively fun, educational experiences for all ages."
The company has just opened its online content creation studio to the first 100 teachers, editors and organizations who request participation, and is in discussion with scholastic publishers in Europe and in the US.
eduPad apps have been downloaded more than 30,000 times and are currently deployed to 3,300 pupils and teachers in the 6th grade in Corrèze, France, the first region in France where local authorities agreed to equip its schools with iPads in 2010. eduPad is leveraging the grand-scale deployment as a living lab in order to improve the efficiency of its apps via unique and detailed feedback from teachers, pupils and parents.
Recent studies have predicted that in 2 years, tactile tablets will become the reference hardware for in-class and at-home educational devices. With its unique solution that anyone can use to publish educational content or learn, eduPad provides the software to help and accelerate the tactile education revolution.
About eduPad
eduPad's mission is to provide a cross-platform solution that enables anyone with quality educational content – whether publishers, editors, teachers, or organizations – to publish great e-learning apps easily, immediately and inexpensively.
eduPad is a French startup based in Paris, created in 2010 by Jérôme Serre and Daniel Jasmin, entrepreneurs and senior innovation consultants. eduPad has raised $720K from ExploLab Factory, a French internet incubator, and a private investor.
###