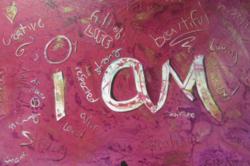 The "I AM" Series and "Positive Graffitti" Series has been very popular amoung the younger generation. - Artist "SELENE"
Calabasas, CA (PRWEB) July 08, 2011
The ENSELE-Art Gallery of Calabasas uses the slogan "A Unique Gallery Experience" for a reason. With unique themes and charitable events, The ENSELE-Art Gallery is taking yet another plunge to bring together community, culture and support to artists. "But this time, we are calling for our young artists," says Barbara Hollander, Art Director of the fine art gallery of Calabasas.
ENSELE-Art Gallery of Calabasas is calling for all 'young artists' for a competition on Positive Graffiti Art. Featured, Award winning artist of NYC, is challenging kids to create 'Positive Graffiti,' a series in which SELENE is known for.
The contest will be in two age categories, kids ages from 8-12 and 13-18. Work must be on a 12x12 canvas or paper in any medium. The deadline for young artists' submissions is July 15th. All work must be dropped off at the Gallery that day. "The Save Our Schools Through the Arts" Gallery Event will be held on Friday, July 29th at the ENSELE-Art Gallery where work will be displayed. Friends, family & the community can bid on young artists work for purchase, and/or place an order for greeting cards of that work. YOU, the viewer, will be the judge to determine the grand prize winner. The winner will be featured in the art gallery for one month. There will be prizes for 1st, 2nd and 3rd place winners. A portion of all proceeds from this event will go to T.H.E. Foundation, a new organization to help raise money for the Las Virgenes School District.
For more information visit: http://togetherhelpingeducation.org
In addition, Carmichael Acting Studio/Carmichael KiDs, a local Acting Studio here in Calabasas is offering affordable acting classes to kids and adults. Any purchase of any single, private, group, camp, acting class, a portion of all proceeds will be donated to T.H.E. Foundation.
For more information visit: http://www.JoshCarmichael.com.
Currently the gallery is taking submissions for the kids work of art. Kids ranging in ages 8-18 are welcome to apply from all schools and surrounding communities. ENSELE-ART welcomes as many submissions for this exciting event. More details can be found on our website at http://www.ENSELE-ART.com under EVENTS. The deadline is July 15th, 2011. The young artists event will be held on July 29th, 2011.
The winner will have their work in the gallery for one month. The child will be in a press release with a photo next to the Featured artist, SELENE. At the event, orders can be place for a copy or for a set of 12 greeting cards. The entry fee will be $10.00 per person at the door, where a portion of the proceeds will go to the Las Virgenes School District and The Foundation.
###