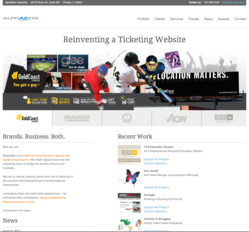 Chicago, IL (PRWEB) July 13, 2011
Announced earlier this month - AlphaZeta Interactive has won the Silver eCommerce award for one of its premier Chicago based brands - Gold Coast Tickets (http://www.goldcoasttickets.com). The Horizon Interactive Awards are a prestigious International, Interactive Media Awards Competition with a rich history of recognizing the best websites, video, print and interactive media.
When Gold Coast Tickets came calling in 2010 they had a challenge for AlphaZeta Interactive – they asked AlphaZeta Interactive to create a unique eCommerce experience that places the user first. In response, AlphaZeta implemented a new and responsive platform that actively anticipates customers' needs.
Enhancements on the events pages now offer customers more than just ticketing info. Users are invited to browse artist backgrounds, venues, seating info and personalized events calendars. Live chat functionality puts customer service front and center—placing users in instant contact with Gold Coast representatives.
The post-launch metrics confirmed what AlphaZeta knew all along, that people use Gold Coast Tickets to purchase tickets for events they already know about. Knowing this, they were able to further enhance the site to make ticket search and ticket purchasing effortless.
About Horizon Interactive Awards:
Each year, the Horizon Interactive Awards receives hundreds, if not thousands of entries from all over the world. A panel of industry professionals, from diverse multi-media, graphic design and marketing backgrounds, review the entries to determine the work that is to be recognized. Entries are given a Gold, Silver, Bronze, and in some cases honorable mention award distinctions.
(http://www.horizoninteractiveawards.com)
About AlphaZeta Interactive:
AlphaZeta is an award-winning interactive agency and digital consulting firm. We match digital know-how with marketing savvy to bridge the worlds of brand and business.
We live by results, leading clients from Aon to Motorola in the evolution from transactional to transformational relationships.
Leveraging ideas into actionable experiences — for commerce AND conversation. Beyond professional. Beyond personal. Human.
For more information about AlphaZeta visit http://www.alphazeta.com
Twitter @azInteractive
###