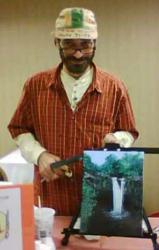 Why not learn something new, have fun, and be relaxed at the same time?
Oakham, MA (PRWEB) July 07, 2011
Artis4Every1.com founder Elaine Griffith now offers art workshop retreats which teach her unique acrylic painting method and also serve as recreational vacations.
When she began developing the Art is 4 Every1 teaching method nearly thirty years ago, Elaine Griffith intended it solely for use in nursing homes, chronic care facilities, and senior centers. However, she quickly realized that these were by no means the only places where her teaching was beneficial. Adults and children alike enjoy the unique system she designed to help anyone create impressive, quality paintings with ease. Griffith's program is entirely unique in that no prior experience or basic skill is necessary and because students of every ability benefit from it. Novices surprise themselves with the quality of their work, and even experienced artists find that the new method enables them to paint more quickly and with greater ease.
Art is 4Every 1 instruction is now so popular that Griffith offers an instructor training program for other artists who want to both learn and teach this innovative method. However, family members of Griffith's students and employees of the facilities in which her students reside often, upon seeing completed work, remark about how they would like receive instruction as well. Although Griffith offers numerous classes throughout the year, they are typically tailored either to intensive care patients or to aspiring instructors.
Prompted by the need for a class for other interested adults, Griffith now offers a special program that combines Art is 4Every 1 instruction and vacation enjoyment in a three-day weekend art workshop retreat. Classes of this type begin in the fall, starting with two events in October. The Columbus Day weekend retreat runs through October 8th, 9th, and 10th in Rutland, Vermont. This location is renowned for picturesque autumn foliage, and the scenery provides excellent inspiration for painting. Tours through the area serve partly as instruction, in teaching students how to observe the surroundings as artists, but also provide pure recreation. Photos will be taken during excursions and will later serve as reference material in class. On the 22nd, 23rd, and 24th of October, when the fall season pervades in central Massachusetts, a second retreat workshop will be held at Griffith's studio in Oakham. Trips to local, historic town commons and to various natural landmarks will provide inspirational reference material for this course. Home-cooked meals and all painting supplies are included with the price of the retreat to ensure that it will be an enjoyable, art-filled weekend.
The research of Dr. Cohen, first chief of the Center on Aging at the National Institute of Mental Health, found that the later adult years can be a time of great creativity. As long as people stimulate their brains by learning and trying new things, new brain cells are created and there's almost limitless capacity for intellectual growth. Why not learn something new, have fun, and be relaxed at the same time? Further information on these workshop retreats can be found at http://www.artis4every1.com, or by calling 508 882-3947.
About Art is 4 Every1
Art is 4 Every1, a unique acrylic painting program, utilizes a method that allows students of all ages and capabilities to generate impressive paintings with ease. This painting method has been taught in summer camps, enrichment programs, senior centers, healthcare facilities and in the art studio. Weekend workshop retreats incorporate this method to provide painting instruction in a relaxed setting and through recreational means. Art is 4 Every1 also trains other artists as instructors of this unique style. This painting method is time proven and has been refined since introduction by founder, Elaine Griffith, in 1985.
###