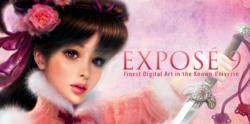 I see here a new generation of fearless artists who are unafraid of embracing the latest technology to express their vision.
Adelaide, South Australia (PRWEB) July 01, 2011
Ballistic Publishing is proud to announce that EXPOSÉ 9 is now available to buy from ballisticpublishing.com and select bookshops worldwide. The latest instalment of the Finest Digital Art in the Known Universe brings together a record number of inspiring works from not only the giants of the entertainment industry, but also many rising stars.
The ninth EXPOSÉ continues an annual tradition, which began in 2003. That was the year when a small handful of passionate digital art enthusiasts slaved away in a hot shed to produce the first EXPOSÉ title. It was their goal to celebrate the world of computer graphics like never before. Each piece of art was hand picked and reproduced so that it would maintain its vibrancy from the screen to the page. Eight years and 39 books later, the shed is now bigger, and thankfully air conditioned, but the passion keeps getting stronger.
EXPOSÉ 9 features a record-smashing 444 pieces of original art (51 pieces more than EXPOSÉ 8) from 327 artists (44 more than EXPOSÉ 8) in 60 countries. EXPOSÉ 9 draws artists from every continent on Earth (except Antarctica), making it the most diverse collection of styles and cultural influences, and a true depiction of the worldwide digital art community.
EXPOSÉ 9 showcases the world's best digital art in the categories of: Game Art; Comic/Manga; Portrait (Painted & Rendered); Fantasy; Fantasy Femmes; Architecture (Exterior & Interior); Concept Art; Environment; Matte Painting; Science Fiction; Robotic/Cyborg; Abstract; Still Life; Warriors & Conflict; Whimsical; Surreal; and Transport. Across all these categories, Ballistic Publishing is uncompromising in its pursuit of quality, and each image that appears in EXPOSÉ 9 is individually color-corrected to maintain a standard of output that no other art publisher can match.
EXPOSÉ 9 entries were judged into Master and Excellence classes by a judging panel of renowned artists including: Stephan Martiniere (concept artist from id Software), Chris Sloan (award-winning Art Director from National Geographic), Max Dennison (founder of Matte Painting UK), Chris Stoski (matte painter and concept artist from Industrial Light and Magic), Don Seegmiller (legendary artist and educator), Alex Morris (architectural visualization guru) and Sze Jones (renowned game artist from Naughty Dog).
EXPOSÉ 9 Grand Master Award Winner—Daniel Dociu
Each year EXPOSÉ awards the title of Grand Master to an artist who has had a major influence through their craft. Previous winners have included H.R. Giger, Ralph McQaurrie, Syd Mead, and John Berkey. Daniel Dociu, the EXPOSÉ 9 Grand Master, has exerted his creative influence in game art direction. Dociu's life started behind the Iron Curtain where he studied art before teaching visual communication at the Fine Art Academy in Cluj, Transylvania. He left for the USA and worked for a toy company before joining several Seattle-based game companies. He is currently the Chief Art Director for NCSoft and has been a central influence on one of the most visually interesting and stylistic RPGs of the last decade with the Guild Wars franchise.
Exclusive Offer for Ballistic Customers Only
Ruoxing Zhang walks you through the creation of her EXPOSÉ 9 cover artwork in an exclusive 40+ minute video walkthrough, plus downloadable Photoshop brushes. Customers who purchase any edition of EXPOSÉ 9 will receive a link to the video download on the Ballistic Publishing Special Delivery page.
Pricing and Availability
EXPOSÉ 9 is available in three editions: Hardcover (USD$79); Softcover (USD$69); and Limited Edition (USD$170). The EXPOSÉ 9 Limited Edition release includes an additional 16 pages of behind-the-scenes work from the Master Artists and specially-printed full-color endpapers. More details about the books and availability can be found on the Ballistic Publishing website
Publication Details:

Soft Cover ISBN 978-1-921828-01-0
Hard Cover ISBN 978-1-921828-02-7
Limited Edition ISBN 978-1-921828-03-4
Pages: 240 pages (Soft Cover and Hard Cover), 256 pages (Limited Edition)
Dimensions: 220 x 297mm (9.7" x 11.7")
Editor/Publisher: Daniel Wade
Shipping: June 2011
H.R. Giger on EXPOSÉ & Digital art
"I see here a new generation of fearless artists who are unafraid of embracing the latest technology to express their vision. The tools may be more complex and require time and skill to master but, as always, the strength and value of a finished work—regardless of the medium—will always rest on the power of the idea behind it." - H.R. Giger, EXPOSÉ 8 Grand Master
About The CGSociety and Ballistic Media
Ballistic Media operates two major divisions—The CGSociety and Ballistic Publishing. The CGSociety is the world's largest society of professional digital artists and provider of forums, portfolios, training, job and event services for the digital arts industry. Ballistic Publishing is the leading, independent publisher of books for the digital arts industry. Dedicated to publications of the highest quality and celebrating the talents of digital artists worldwide, Ballistic has set the benchmark as an award-winning boutique publisher. Ballistic Media is based in Adelaide, South Australia, with offices in Melbourne (Victoria, Australia) and Tampa (Florida, USA).
Digital assets can be downloaded from the Ballistic Publishing Press Area
Media Contact
For more information, images and review copies contact:
Daniel Wade - Publisher
daniel(at)ballisticmedia(dot)net
###