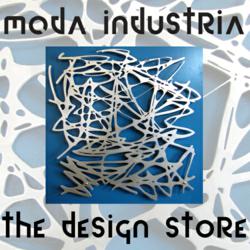 Bloomington, IN (PRWEB) July 26, 2011
MODA INDUSTRIA offers distinct creations all designed and made in-house. The designer and entrepreneur behind MODA INDUSTRIA is Lucia Bennett, an Indiana University Fine Arts graduate and long-time Bloomington resident. She is involved in all steps of the creation and development of the products.
The dominant technology behind MODA INDUSTRIA is abrasive waterjet. The parent company of MODA INDUSTRIA is Hoffman Design Works, Inc., a custom design and fabrication business. Hoffman Design Works, Inc. purchased an OMAX waterjet in 2007 to expand their in-house fabrication capabilities. Lucia was hired in 2009 to run the waterjet cutting portion of the business. Lucia immediately saw the potential of the waterjet for creating art. Initially she began making art for personal uses and then gained exposure after the Herald-Times did a full-page article in their Homes section showcasing the waterjet cut garden art she had created for her home. MODA INDUSTRIA came to life in late 2010 when Lucia began selling her original waterjet cut décor and fashion designs on Etsy. After seeing a rapidly increasing demand for her products, Hoffman Design Works, Inc. created the new division within its business structure.
MODA INDUSTRIA's home décor products and accessories are designed from a wide range of materials including but not limited to aluminum, steel, stainless, rubber, leather, plastics and wood. Items range in style from Steampunk to Art Nouveau to Arts and Crafts and Prairie to Mid-Century Modern and contemporary.
The home décor products include small decorative sculptures, original wall art designs and unique signage. Also included are garden, patio products and furniture. Nearly everything is made to order which allows for a diverse range of colors and finishes and customized products. Customized products range from period design house number signs to signage to personalized handbags.
The fashion accessories include wearable art such as bracelets, rings, necklaces and handbags in a wide variety of styles. Many of the jewelry styles are unisex and make a bold fashion statement. The handbags range in styles featuring simple geometric patterns to steampunk-inspired bags with gear embellishments. Handbags are made from aluminum, rusted steel and plastics and available in leather and rubber vegan styles.
MODA INDUSTRIA has already sold numerous products throughout the US, Europe and Asia. See what people have been raving about:
Visit the online store http://www.modaindustria.com
Contact us:
Moda Industria
2120 W Industrial Park Dr.
Bloomington, IN 47404
(812) 334-4090
###