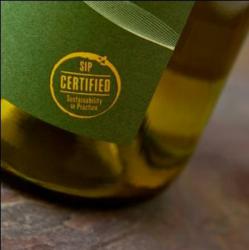 What we love about SIP and the 'sustainability' model is that it addresses both human and natural resources.
Paso Robles, CA (PRWEB) July 07, 2011
Millions of California wine bottles are now bearing the SIP Certified Seal so that wine consumers can select wines made from grapes grown by eco-conscious, community-minded grape growers. More than two million SIP Certified wine bottles are now in national distribution and can be purchased at supermarkets, discount warehouse stores, online, and at specialty wine shops.
Sustainability in Practice – aka SIP – is an extremely robust sustainable agriculture certification standard and verifies for savvy consumers that wines were sustainably grown. Agricultural leaders in the state of California support the program which considers integrated farming practices as well as third-party verification of those practices.
Since 2008, when the program was launched, SIP's independent auditors have inspected 60 California vineyards representing 15,000 acres of wine grapes, confirming that those vineyards meet the strict eligibility requirements. Final certification is granted by an outside advisory committee of agency, academic, and industry experts.
"At Hahn Family Wines we made the decision to become certified as sustainable as the practices fit naturally with our approach to every aspect of our winery operation," said Philip Woodrow of Hahn Family Wines, a Monterey County winery that was one of the first California wine estates to earn the SIP Certification. "From our vineyards, to our winery production area, to our attitude about our employees, the effort has been well worth it. We are very proud of our environmentally-friendly practices that promote environmental health, economic viability, and social equity."
SIP criteria encourage holistic management of the entire vineyard. Environmental and agricultural concerns include habitat conservation, energy efficiency, pest management, water conservation, and air quality, as well as the critical element of human resources. SIP Standards focus upon the worker and available benefits such as medical insurance, retirement benefits, safety education, and access to community resources.
The attention to the human element is just one thing that sets SIP apart from other programs. "Eco-labels typically focus exclusively on agricultural practices and environmental issues. What we love about SIP and the 'sustainability' model is that it addresses both human and natural resources," says Kris Beal, Executive Director of the Central Coast Vineyard Team, the non-profit group which developed SIP Certification. While it was developed on California's Central Coast, the SIP Certification program is available to all qualifying California vineyards.
Open to eligible vineyards in any location, the SIP Certification program is an extension of the pioneering research and education work of the award-winning Central Coast Vineyard Team, a 501(c)3, non-profit organization dedicated to sustainable farming since 1994. Recipients of DPR's IPM Innovator Award and EPA's Sustained Excellence Award, the organization's outreach program reaches thousands of growers representing over 100,000 acres statewide. http://www.vineyardteam.org
http://www.sipthegoodlife.org/
###