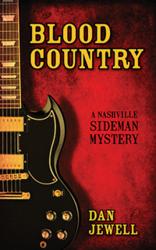 As he delves deeper into the case, Rose soon realizes he's in 'Blood Country,' a place not listed on the Nashville celebrity tour maps.
Nashville, TN (PRWEB) July 23, 2011
According to the old Lovin' Spoonful tune "Nashville Cats," there are 1352 guitar pickers in Music City. But the real number of guitarists working or looking for work in Nashville today is probably much higher than 1352. With so many side guitarists, and so few gigs, that means many of them must hold down another job as well. In writer Dan Jewell's new mystery novel, "Blood Country," narrator/guitarist Joe Rose has a day job--he's a private detective.
"Readers know that the city where any mystery novel takes place practically becomes a character itself," says Jewell. "Robert Parker's Spenser, for example, lives and does his investigating in the historic city of Boston. Michael Connelly's Harry Bosch is a detective in diverse Los Angeles. One of the things that makes Nashville unique is its music industry. My central character Joe Rose works cases as an insider in that industry. He takes the reader beyond the glamour and celebrity of country superstars who seem larger than life in videos and on the huge concert stages. Rose knows that all the stars, even the nicest ones, wear a performance mask--they're one thing on stage and something quite different when the music stops. Most of the time what's hidden behind the mask isn't all that big a deal. But sometimes, at least in fiction, the mask can hide a murderous secret."
Jewell, a native Nashvillian himself, says that although he's already encountered some speculation about the possible connection between characters in "Blood Country" and real stars, "there's no actual or intended correlation. Some readers will inevitably make connections and there are certainly many country stars with scandals or dark chapters in their backgrounds, but "Blood Country" is pure fiction."
In Jewell's novel, guitarist detective Joe Rose is hired by strung out country superstar Vern Hamlin to reopen a closed case--his famous father's murder twenty years ago. As he investigates the old murder, Rose interviews Hamlin's sexy ex-wife whose publicist claims she's country music's answer to Lady Gaga. He also encounters a lovelorn professor who writes mystery novels, a crazed songwriter with a big gun, and Hamlin's promiscuous stepmother who's now married to the pastor of a Nashville megachurch. As he delves deeper into the case, Rose soon realizes he's in "Blood Country," a place not listed on the Nashville celebrity tour maps.
The reviewer at ReadersFavorite.com calls "Blood Country" "a brilliant mystery" with "a complex plot," "multi-dimensional characters," and "more than a tad of humor." Amazon reviewer Erinwald says the novel will "captivate mystery fans and country music lovers alike." A reviewer at Avid Reader Book Reviews says, detective Rose "rips off the rhinestone mask of the Nashville music scene." Well-known blogger CountrysChatter believes country music fans will enjoy this "well-written" mystery which "keeps you interested from the first page to the last."
"Blood Country" is available online from Amazon.com in both paper and Kindle formats; it's also available online from Barnes and Noble as well as Books a Million and can be ordered through any brick and mortar bookstore.
###