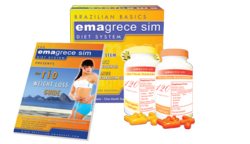 Two women from the Miami area were cloaked in darkness in order to hide their identities while being interviewed. They described taking one of the Brazilian diet pills (in this case Emagrece Sim) which helped them lose weight at a rapid rate.
(PRWEB) July 20, 2011
Stories have swirled regarding two weight loss supplements, Emagrece Sim and Herbathin - also called Brazilian diet pills, since their use and popularity has skyrocketed in recent years. One manufacturer of the Brazilian diet pills has had to deal with the negative publicity surrounding these pills for years. Brazilian Basics manufacturers Emagrece Sim and while its products have never tested positive for any dangerous or harmful ingredients, it warns customers that counterfeit versions that have tested positive are on the rise in 2011.
One prominent story on The Today Show featured two women from the Miami area who were cloaked in darkness to hide their identities. They described taking Brazilian diet pills which helped them lose weight at a rapid rate. However there was a down side, a substantial downside. Both women tested positive for amphetamines during an employment drug test. Eventually the positive test was traced back to the "all-natural" Brazilian diet pill.
The story featured on The Today Show isn't the only case of women failing drug tests in connection with using Brazilian diet pills. The Miami Herald has also reported that up to four women failed drug tests while seeking employment at the Baptist Health Hospital in South Florida. Thomas Moore who spoke to the Miami Herald and works in the hospital's employment system recalls, "One woman was crying, saying this hospital was what she wanted to spend her life doing." One of the women who tested positive for amphetamines told the Miami Herald, "This is really big. People in medical institutions, police officers… everybody is taking these pills and nobody knows what's in them."
Reports like these continued to surface. Most originated from the greater Miami and South Florida area where it seems illegal versions of Brazilian diet pills were making their way into the US via the black market. This eventually prompted the FDA to release a warning to consumers about purchasing and consuming the diet pills known as Emagrece Sim and Herbathin. The FDA discovered the products it tested contained fenproporex, a stimulant the body converts into an amphetamine. It is not approved for use in the US, however even with the FDA warning many black market Brazilian diet pills remain popular to this day.
A recent story in Allure Magazine about a hair stylist for to New York models further illustrates this point. The stylist referred to as Thomas to protect his identity began using the Brazilian diet pills even after he was exposed to the wild mood swings of the models for one reason - the models were losing weight. Thomas recalls how after he began taking the pills he lost 25 pounds in only two months, "The weight loss was pretty much effortless—I just stopped thinking about food. I felt great as if I had boundless energy." Similar to the other stories involving Brazilian Diet Pills, Thomas went from feeling great to terrible in a short period of time. Just a few weeks later Thomas recalls having awful mood swings and lying in bed with his heart racing. His mother-in-law, who also had been taking the pills and having nearly identical side effects, took the pills to her physician where they were tested and determined to contain illegal amphetamines. They stopped taking the pills immediately and both Thomas and his mother-in-law's mood swings and racing heart stopped.
There is clear evidence of the dangers associated with counterfeit or black market Brazilian diet pills however even with the numerous horror stories directly tied to these pills they remain as popular as ever. For many, the possibility of a magic pill is just too tempting for many even if it means losing much more than just weight.
###