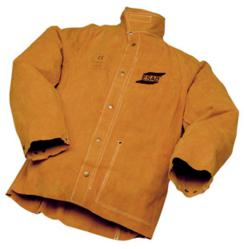 Florence, SC (PRWEB) July 06, 2011
ESAB Welding & Cutting Products introduces a new line of protective clothing for welders. Part of ESAB's new Weld Warrior™ line of protection, the clothing line combines maximum safety protection with the greatest comfort. The line includes:
Welding Jackets – Two types of welding jackets are available. In ESAB Proban/leather jackets, the sleeves and shoulders are made in durable Grade A leather to withstand exposure to welding spatter. The front and back are made from flame retardant Proban material. The Kevlar® stitched garment features concealed inner pockets, adjustable sleeves and a stand-up collar. The second model of all-leather jacket is made from high quality leather with a reinforced front designed to withstand mechanical and thermal stress. The Kevlar® stitched jacket features a stand-up collar and inside pocket with adjustable wrists.
Welding Trousers – ESAB's Kevlar®-stitched Proban/leather trousers are designed for maximum comfort and safety. The front of the legs are reinforced with leather to withstand spatter and welding sparks.
Welding Apron – This Kevlar®-stitched, 42.1" long protective apron is designed to distribute weight effectively for maximum comfort.
Welding Coverall (available July 2010) – This black and yellow coverall is made from a highly durable and flame-resistant material. The coverall features an elasticized waist for better comfort and fit, adjustable sleeves and legs, and a covered, protected zipper. The neck is protected by the stand-up collar, and knee pads can be fitted.
Protective Head Gear – An assortment of protective head gear is available, including a Proban flame resistant Hood that covers the head, neck, and shoulders and an Insulated Helmet Liner that is worn underneath the welding helmet to offer protection from the elements when working in a cold environment.
ESAB Welding & Cutting Products is one of the world's largest and most knowledgeable manufacturers of welding and cutting equipment and welding filler metals. Recognized as the technological leader in the industry, ESAB is committed to providing customized solutions for its customers. For more information on column and boom systems or other automation equipment, visit http://www.esabna.com or call 1-800-ESAB-123.
###