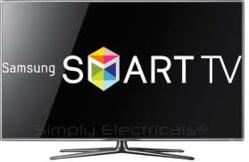 This consumer orientated website should prove invaluable to those buying a new Samsung 3DTV.
Chichester, UK, (PRWEB UK) 13 July 2011
Many UK consumers are saving money by using a new website offering reviews and a price comparison service for the five star rated Samsung UE46D7000 3DTV.
With the growing number of 3D television programmes available and 3DTV becoming more affordable, it is not surprising that more 3D sets are being bought. The current take up is around 125,000 and is expected to increase to well over 1 million within the next 5 years.
TV manufacturers tend to release new models each spring. Samsung has generally been amongst the first to launch new 3DTVs each year and 2011 was no exception.
Although the UE46D8000 was the first and well received, reviewers were very surprised when the Samsung UE46D7000 followed hard on its heels. Although the 7000 suffix means that it is from a lesser model range, the specification was more or less identical to the more expensive (typically £400 more) model.
In fact the only significant difference is in its appearance. Nevertheless the transparent bezel is still narrower than the surround on other manufacturers' sets. So much so that this 46 inch model takes up less room than most of the 42 inch models from competitors.
The picture quality of the UE46D7000 is stable, smooth and stunning, with an extremely low noise level. Of course, 3D looks particularly attractive, but the set also excels at portraying 2D images.
"This consumer orientated website should prove invaluable to people who are considering buying a new Samsung 3DTV. Reviews of the Samsung UE46D7000, together with a price comparison service showing the cheapest place to buy it, updated every hour will enable consumers to save hundreds of pounds," Andrew Broad, the site owner, said.
The popularity of this latest Samsung UE46D7000 3D television, together with the usefulness of the new website is evidenced by the increasing number of visitors to the site.
###