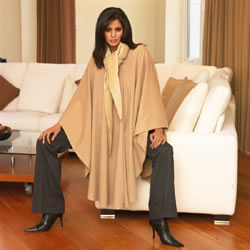 Why pay customs costs? Let Donegal Importers ship via FEDEX to your door!
New York, NY (PRWEB) July 04, 2011
Jimmy Hourihan and family have been making women's quality capes and coats in Dublin, for more than 50 years. A Jimmy Hourihan representative stated "Jimmy Hourihan is one of the world's leading manufacturers of capes and wraps - specialising in luxury fabrics - 100% Cashmeres - Cashmere/Wool Blends - Precious Fibres Blends - Double-face Lodens - and our famous Irish Tweeds from Donegal."
Jimmy Hourihan stated, "the Jimmy Hourihan line of clothes are sold in better stores in Dublin, London, New York, and Tokyo."
Donegal Importers will ship your cape or shawl free via FEDEX. John Murray CEO of Donegal Importers stated, "The Jimmy Hourihan line of capes was Donegal Importers top selling clothing line last holiday season. Take advantage of our free shipping with FEDEX and put a beautiful holiday present away early!"
Donegal Importers is one of the largest importers of genuine Irish made products in the USA. Contact us at 888-655-1354 with any questions.
# # #