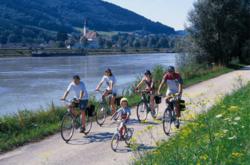 The Danube Bike Path is especially popular among families and first-time cycle-tourists because it's flat, well-marked and on a dedicated asphalt path away from traffic.
Chattanooga, TN (PRWEB) July 12, 2011
Austria's Danube Bicycle Path tops the 2011 list of most popular European bicycle routes, according to BikeToursDirect, which represents local European bike tour companies. Out of more than 200 tour routes in 35 European countries, bicycle tours along the Danube Bike Path represent nearly 20 percent of the company's 2011 bookings.
Offering care-free cycling on a dedicated, paved bicycle path, tours along the Danube take cycle tourists through picturesque medieval towns, lush farmlands and sprawling vineyards. BikeToursDirect represents five Austrian and German bicycle tour companies that operate tours along this route and offers 14 different Danube tours among its roster.
"The Danube Bike Path is by far our top seller and has been since BikeToursDirect started eight years ago," says BikeToursDirect founder and president Jim Johnson. "It's especially popular among families and first-time cycle tourists because it's flat, well-marked and on a dedicated asphalt path away from traffic. Daily distances are also low, so there's plenty of time to explore and sightsee."
The typical tour along the Danube Bike Path is one week and begins in Passau, Germany, the "City of Three Rivers," and ends in Vienna, Austria's capital and a top tourist destination.
"Cycle tourists can choose a variety of tour options, including self-guided, guided or bike and boat tours," explains Johnson. "The Danube also offers good 'bail-out' options if a cycle tourist gets tired. In some places cyclists can roll their bikes onto a train or boat to the next town."
Low tour prices are also a factor in the route's popularity. Self-guided tours start at under $800 for one week and include hotels, breakfasts, luggage transfers, detailed maps, route information and a service hotline in case any questions or problems arise. Danube tours take four primary forms:

Self Guided: The self-guided tour from Passau to Vienna is the most popular and can be customized based on preferences for interests, daily mileage and trip duration. Rest days can be built in along the way so cycle tourists can explore an area in greater depth and return "home" each night.
Guided: The guided tour from Passau to Vienna is a popular choice for cycle tourists interested in a more structured schedule in a group atmosphere with a guide to point out historic sights. Guided tours also add dinners and a support van.
Bike and Boat: Cycle tourists stay on a comfortable boat (cabins with private facilities and air conditioning), while cycling at different locales on the Danube Bike Path each day. Cyclists (or non-cyclists) have the option each day to take a break and travel by boat to the next destination.
Family Tour: The family tour, which can be guided or self-guided, offers shorter daily distances, due in part to scheduled boat rides along the route on many days, features stays in family-friendly hotels, and incorporates kid-friendly attractions and activities such as a fairy-tale ride on the grotto railway, visits to zoos and an adventure park, and a ride on the giant Ferris wheel in Vienna.
Two of BikeToursDirect's other top three tours for 2011 are also along dedicated bike paths: Lake Constance Bike Path in Germany, Austria and Switzerland and the Mosel Bike in Germany.
About BikeToursDirect
BikeToursDirect, now in its eighth season, serves as a central resource for bicycle tours in Europe, representing more than 50 tour companies that offer more than 200 tours in 35 European countries and is currently expanding to Asia, Africa and Australia. BikeToursDirect offers a variety of resources to help travelers choose tours and handles the entire booking and payment process. Learn more at http://www.biketoursdirect.com. Telephone: 1-877-462-2423 or 1-423-756-8907. Email: info(at)biketoursdirect(dot)com.
# # #