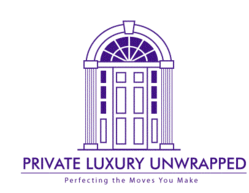 The Go To Company for Relocation and Lifestyle Management Services for professionals moving to and around Washington, DC.
Washington, DC (PRWEB) July 11, 2011
The word is out about Private Luxury Unwrapped and its customized Residential Relocation Management Services. The boutique firm offered substantial referral fees that acted as an extension of their sales team and allowed them to perfect the moves of many more while focusing on their sole goal, making the lives of those relocating to Washington, DC better. The referral program got the attention of managers, human resource professionals, expatriates and high-end realtors who are all interested in the benefits of this hands on service.
So who is been benefiting from this array of well-orchestrated destination services?
Realtors who want to maintain a high level of personalized service for their clients after closing but also need to focus on their next listings and showings. Partnering with Private Luxury Unwrapped has proven helpful in assisting Realtor's clients in need of organizing, staging and packing readying their current residence for a move and utilizing unpacking and other destination services when settling into their new residence.
The Professional who just came to DC and needs to make a quick and positive impact on their staff and management. Paying attention at work and letting Private Luxury Unwrapped handle the tedious and time consuming details of moving allows them to make a great impression in this volatile market and if they have a family in tow…they are taken care of as well. Some opt to, if they are too busy after the move, have Private Luxury Unwrapped Lifestyle Management Services insure their home and laundry are clean, fridge is stocked, anniversary gifts are bought, birthday parties are planned and their pets and lawns are cared for.
Also finding the services beneficial are a growing number of savvy Managers and Human Resource professionals who use Private Luxury Unwrapped as an additional recruiting tool. Managers and HR professionals are responsible for ensuring a new hire is in place, happily working and stays in the position after countless man-hours and dollars have been spent to recruit them. Surveys also say that if the newly hired is worried about their vehicle registration, the cable guy or their family's well being, they may love the new position but may have one foot and all of their belongings in the city they just "left" and will never fully commit to the new company. Companies that utilize these services increase retention and make their new employees feel welcome by easing the stress of their transition. The professionals at Private Luxury Unwrapped work tirelessly and confidentially to accommodate the large or small needs of their clients by assessing their situation and working within their relocation budgets.
This information has proven to be the true by Traci Femister, CEO of Private Luxury Unwrapped. For over a decade, Traci ran staffing offices nationally and assisted professionals in their moves after being placed in one of the many companies they served, including Fortune 500 and government agencies. "Getting professionals settled into their new homes and acclimated to the Washington, DC area takes an experienced and resourceful team of professionals as well as a vast network, one that we've been building for years. Those who are moving to the city or from one home to another within the area have far fewer distractions when we are hired. Corporations find the new employees very focused on their positions, not looking for a residence, unpacking dozens of boxes, getting daily parking tickets while living on a costly company paid per diem. We will literally deliver their home fully unpacked with furniture arranged, technology installed, favorite food in the fridge, firing roaring with their favorite picture framed and perfectly perched on the mantel. Everyone is happy and life is good!"
For more information regarding the various Relocation and Lifestyle Management Services offered by Private Luxury Unwrapped, visit http://www.PrivateLuxuryUnwrapped.com, email Request(at)PrivateLuxuryUnwrapped(dot)com; dial 888.887.7559 or Tweet on Twitter @PLUXUNWRAPPED.
# # #