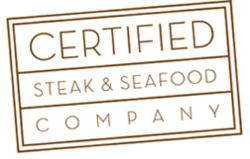 "We envision the partnership with Canadian Mist to be very successful because of how well the products mesh together," stated Mark Frisch, partner at Certified Steak and Seafood Company.
Jacksonville, FL (PRWEB) July 07, 2011
Certified Steak and Seafood (CSS), the online destination for quality steak and seafood products, recently partnered with Canadian Mist, an award-award winning Canadian whisky made in Ontario, Canada. The partnership with Canadian Mist includes promotions, sweepstakes and contests at retail, online and via mobile and social media for both CSS and Canadian Mist customers.
"We're excited to see where this partnership can take us," said Mark Frisch, a partner at CSS. "We envision the partnership with Canadian Mist to be very successful because of how well the products mesh together. We believe it will allow Certified Steak and Seafood to gain brand awareness through different channels as well as open up new channels for Canadian Mist."
Canadian Mist is currently holding the Ultimate Cookout Sweepstakes, a sweepstakes with a grand prize of a GE Monogram® outdoor refrigerator and grill, and a $1,000 gift certificate to Certified Steak and Seafood. Canadian Mist will also be placing point of sale at retail, on key displays and on shelf, to promote CSS products. Other partner opportunities include CSS inserting Canadian Mist promotions, offers and recipes into each customer's order to highlight promotional initiatives and helpful information from Canadian Mist. And what better way to enjoy a quality meal than with a Canadian Mist Cocktail!
"We're proud to say that Canadian Mist is one of the best-selling Canadian whiskies in the United States", said Brand Manager, Joe Murray. "Partnering with Certified Steak and Seafood will allow Canadian Mist to demonstrate the versatility of our whisky. Canadian Mist is so smooth and light-tasting, it can make a wide variety of cocktails for any occasion, the perfect complement to enjoy during dinner or at the grill with friends and family."
Both companies share the same core values of quality products and top of the line customer service. CSS has, since the beginning, established a firm process to assure customers their steak and seafood is of the highest quality. Every single product comes with a third-party certified analysis report, which also includes nutritional facts. Canadian Mist won the Double Gold Medal Award at the San Francisco World Spirits Competition in 2009 due to the fact that it is distilled three times; then aged in oak barrels in order to achieve the smooth, light tasting, flavor that customers have come to appreciate.
About Certified Steak and Seafood Company
CSS ships millions of dollars worth of fresh beef and seafood products to commercial establishments around the country. First and foremost, building the CSS website was a commitment to offering consumers a better value and shopping experience, with a quality process that is unmatched by other steak and seafood retailers. For more information on CSS, visit our website at http://www.certifiedsteakandseafood.com.
About Canadian Mist
Canadian Mist is an award-winning Canadian Whisky distilled in Collingwood, Ontario with water from the pristine Georgian Bay, North America's largest pure water source. Brown-Forman Corporation is a diversified producer and marketer of fine quality consumer products, including Jack Daniel's, Canadian Mist, Southern Comfort, Finlandia Vodka, Woodford Reserve Bourbon, Early Times Whisky, Old Forester Bourbon, and Korbel California Champagnes. For more information, visit http://www.canadianmist.com.
###