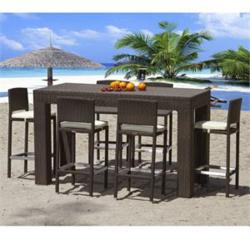 Free Shipping on all Patio Furniture during the 4th of July Sale!
Chicago, IL (PRWEB) July 01, 2011
To celebrate the Fourth of July holiday, FurnitureForPatio.com is offering a one week sale on all patio furniture. The sale will be available from July 1 - July 10, 2011. During the sale, customers will be able to take advantage of free ground shipping on all orders. This sale provides customers a great opportunity to save on every order with free shipping. During checkout, all orders will display free Fourth of July Sale shipping before any billing information is required. All orders qualify for free shipping during the sale, allowing customers to save over $300 on big purchases. This Fourth of July sale allows Furniture For Patio to recognize our countries independence and allow customers to save, while getting their home ready for summer. The 4th of July is a great time to enjoy fireworks, parades, barbecues, and the opportunity to save on every patio furniture purchase at FurnitureForPatio.com
This Fourth of July patio furniture sale will allow customers to save on all patio furniture and patio decorations. FurnitureForPatio.com features a great collection of patio furniture that can be customized to person's preference. Some of the furniture is available with custom frame colors and over 100 different options for cushion colors, allowing a customer to create an outdoor living area that matches their homes décor. With the vast selection of patio furniture available at FurnitureForPatio.com everyone has the chance to save big on their patio furniture purchase during the 4th of July Sale.
Customers can shop from a great collection patio chairs that are available in a variety of styles and materials. Nothing is like sitting on a porch rocking in comfortable patio rocking chair. FurnitureforPatio.com also has popular Polywood Adirondack chairs that are made from recycled plastic and feature classic styling. Other popular chairs include patio dining chairs, swivel rocker chairs, patio club chairs and more. Furniture for patio also features a great collection of daybeds that are great for relaxing poolside in the summer sun.
Customers can also save on all patio umbrellas during the 4th of July Sale. All umbrellas ship free during the sale. Furnitureforpatio.com features a great collection of Sunbrella umbrellas, commercial umbrellas, and umbrella stands. The Sunbrella umbrellas are available in 20 different custom fabrics, so that your patio umbrella can match your cushions on your patio furniture. The patio umbrellas are available with a variety of different option and can be customized by size, pole color, canopy color, and more. Don't miss this opportunity to save with free shipping on all patio umbrellas.
If you are looking to create a patio for entertaining, FurnitureForPatio.com has a wide variety of patio bar furniture. Shop from patio bar sets, bar height stools, counter height stools, and bar tables. Hi-Top patio sets are great for creating a casual outdoor dining experience that will be enjoyed by friends and family. The patio bar furniture is available in variety of cast aluminum, resin, teak, and aluminum material. The bar sets are also available with your choice of bar stools that can be customized with your choice of seat cushions or sling fabric.
FurnitureForPatio.com is quickly becoming one of the best online stores for quality outdoor furniture and decorations. FurnitureForPatio.com offers a safe and secure online shopping environment that is backed up by one million dollar guarantee. The store offers greatest flexibility in ordering furniture that is custom made to a customers specifications. To take advantage of the Fourth of July Patio Furniture Sale, customers must place their orders between Friday July 01 until Friday July 10, 2011. All orders placed during the sale will receive free ground shipping.
###