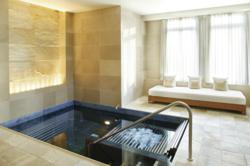 "By combining the therapeutic powers of water and oxygen, we can now offer guests a one-of-a-kind wellness experience that no other spa currently has." – Assistant Spa Director, Nicole Yih
New York, NY (PRWEB) July 18, 2011
The Spa at Mandarin Oriental, New York is proud to introduce oxygen-intensified healing waters in its men's and women's Vitality Pools with the installation of ground-breaking technology from Oxygen Pur Spa.
The Spa at Mandarin Oriental, New York is the first spa in the world to adopt Oxygen Pur Spa's proprietary, infusion technology, which brings the therapeutic benefits of oxygen to spa-goers for enhanced wellbeing. For decades, oxygen has been prescribed by medical professionals for its healing benefits and is one of the fastest growing anti-aging treatments within the beauty industry.
Using the Oxygen Pur Spa system, The Spa's Vitality Pools now feature supersaturated levels of dissolved oxygen, 20 times over what is found in normal tap water. By using the oxygen-intensified Vitality Pools, guests can absorb increased oxygen through the skin, the largest organ in the body, substantially boosting oxygen levels in body tissue. Benefits of increased oxygen can include better skin cell respiration, which helps reduce the appearance of fine lines, age spots and wrinkles, leaving skin clearer, softer and healthier. Increased oxygen levels also assist with an overall release of toxins in the body, increased circulation, and elevated energy levels for a feeling of enhanced overall wellness.
"Oxygen is known to enhance skin cell metabolism to promote healing and healthier skin, in addition to stimulating the lymph system to transport impurities from the body," states Mandarin Oriental, New York Assistant Spa Director, Nicole Yih. "By combining the therapeutic powers of water and oxygen, we can now offer guests a one-of-a-kind wellness experience that no other spa currently has. To experience the benefits of our Vitality Pool's oxygen intensified waters, we recommend soaking for a minimum of 10-15 minutes. The oxygen boost will also enhance the effectiveness of any of our treatments."
The use of the Vitality Pools is complimentary to all guests of The Spa at Mandarin Oriental, New York. It is recommend that guests arrive at The Spa a minimum of thirty minutes prior to their treatment time to take advantage of the oxygen-intensified Vitality Pools located in both the men's and women's Heat Experiences Rooms. For more information or to book your reservation at The Spa at Mandarin Oriental, New York, please reservations at +1 212 805 8990.
About Mandarin Oriental, New York
A stunning fusion of modern design with stylish Oriental flair, Mandarin Oriental, New York features 248 elegant guestrooms and suites — all with breathtaking views of Manhattan and Five-Star hospitality. Luxurious amenities include Asiate, the hotel's elegant restaurant; MObar created by noted interior designer, Tony Chi; the Lobby Lounge with dramatic views of Central Park; a 14,500-square-foot, Five-Star Mandarin Oriental Spa; and a state-of-the-art fitness center with a 75-foot lap pool. In addition, there is premium meeting and event space, including a 6,000-square-foot pillar-less ballroom with three walls of windows overlooking Central Park. Located in Columbus Circle's Time Warner Center, Mandarin Oriental, New York is in an idyllic location just steps away from world-class dining, shopping and entertainment, including the Broadway Theater District, Lincoln Center, Central Park, Jazz at Lincoln Center and the Time Warner Center's collection of upscale retail shops and restaurants.
About Mandarin Oriental Hotel Group
Mandarin Oriental Hotel Group is the award-winning owner and operator of some of the world's most prestigious hotels, resorts and residences. Mandarin Oriental now operates, or has under development, 41 hotels representing over 10,000 rooms in 25 countries, with 17 hotels in Asia, 14 in The Americas and 10 in Europe and North Africa. In addition, the Group operates, or has under development, 13 Residences at Mandarin Oriental, connected to the Group's properties.
Photography of Mandarin Oriental is available to download, in high and low resolution, in the Photo Library of our Media section, at http://www.mandarinoriental.com.
###