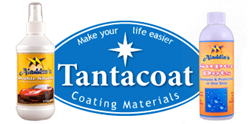 Puyallup, WA (PRWEB) July 06, 2011
Tantacoat, the Coating Materials Division of Belltree International Trading Company, announced its launch of two new car care products: Aladdin's Double Shield and Aladdin's Super Dots. These best sellers in Japan are packed and marketed in the USA under the Tantacoat brand. They will be distributed to car care professionals and the general public.
Aladdin's Double Shield is a car body protective coating, which is the result of decades of Japanese research. It has a unique formula containing liquid glass and silicone polymer products and is now available in the USA. According to sole distributor Keiichi Suzuki, president of Belltree International Trading Company, Aladdin's Double Shield is a top seller in Japan because of its simple application, long lasting results and cost effectiveness.
"Aladdin's Double Shield has a very hard glass layer with an Industry Standard Hardness of 7 (7H), so it protects car bodies against scratches caused by fingernails, small rocks, iron dust and off road weeds. It's non-stick surface repels dirt and animal droppings, cleans easily with only water and a sponge and is water repellent, eliminating water spots. One application lasts at least three times longer than regular car wax."
Liquid glass is one of the most important ingredients in Aladdin's Double Shield because of its durability, hardness and sheen. "Glass has been known to last for centuries and maintain its luster", commented Mr. Suzuki. "It is a key ingredient of porcelain, which coats samples of ancient pottery. The hardness of glass protects what it coats from the potentially harmful effects of chemicals in the environment. Now, innovative technologies have made it possible for Aladdin's Double Shield to harness the benefits of glass to produce a highly effective coating which can be used at room temperature without specialized equipment."
"Because silica glass particles are nano-sized, they penetrate into the car body's paint adding up to two years of additional protection. A vehicle's surfaces will become stronger with repeated use of Aladdin's Double Shield.
"Aladdin's Super Dots is a multi-purpose car shampoo. It forms a protective, silicone layer on the car's surface. This layer cross links with the car body to protect the body from water and soap residue. This means less use of water. The silicone layer is also water repellant. At car speeds of 30-40 mph, water beads will roll off the vehicle instead of producing water spots. Using Aladdin's Super Dots car shampoo helps cars retain their beauty and increases longevity with very little maintenance."
Aladdin's Super Shield and Aladdin's Super dots are easy to apply, eco-friendly and give long lasting results. They protect and add luster to car bodies. Applications are many, including use on cars, motorcycles, boats and aircraft. For more information, visit the Tantacoat website at http://www.tantacoat.com.
Tantacoat is the Coating Materials Division of Belltree International Trading Company. Belltree has specialized in exporting and importing American and Japanese products since 1987. President Keiichi Suzuki has extensive car care experience. Prior to Belltree, he owned and operated a driving school and was a used car broker in the San Francisco Bay area. Belltree is based in Puyallup, Washington.