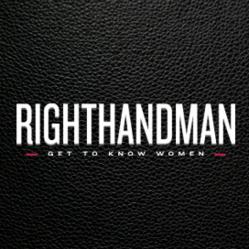 Right Hand Man was designed to take the guesswork out of seduction.
Montreal, Quebec (PRWEB) July 06, 2011
With men behaving more cowardly than ever in the face of romance, only one iPhone app can help men get to know women: Right Hand Man. The popular seduction app, created by Canadian media firms Face3Media and Escape Success, has been spruced up with the release of a long-awaited upgrade in June 2011. A new free version of the app is available on the same day.
Right Hand Man was designed to take the guesswork out of seduction. Unapologetically tongue-in-cheek, it has quickly made a name for itself by reminding users that the art of seduction does not have to be formulaic, presumptuous or dull. The app works by harvesting user intuition and providing a focused and clear way to approach any woman, dispensing advice, instructions and sure-fire opening lines. The app can be used to start a conversation (Was that your baby I found in the toilet?), stimulate a lighthearted debate (Is it just me, or is making the bed after waking up alone the most lonely thing in the world?) or lead into more scandalous territory (Don't tell anybody, but I just ate a Smurf in the bathroom).
The upgrade includes a new "quotes" button that provides an assortment of confidence boosting and inspirational one-liners about women, romance and what it takes to make a great first impression. The same sliding wheel system is still used, but the app now offers a sleeker overall design and a refreshed "black book" interface, which makes content easier for users to read. The free version offers the same courage-inducing content and user-friendly design, but is limited to randomly displaying Right Hand Man's selection of quotes.
Face3 Media is a media design and development firm based in Montreal, Canada. Established in 2001, the versatile company offers custom programming, art direction, video, photography, illustration, Web content and marketing. Also based in Montreal, Escape Success is a content and copywriting firm.
###