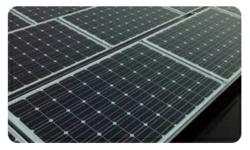 The decision to utilize the renewable energy of the sun was a simple one, both ethically and economically
Livingston, NJ (PRWEB) July 02, 2011
As part of their continuing commitment to help protect the environment and contain costs, The Lock Up, a Chicago based self storage company with over 30 climate controlled storage facilities nationwide, has taken the future friendly step of installing solar panels in their Livingston and Westwood New Jersey facilities.
"The decision to utilize the renewable energy of the sun was a simple one, both ethically and economically," says Andrea Carnes, Vice President of Operations for The Lock Up Self Storage. "The installation of the solar panels will definitely enable us to reduce costs since sunlight is free. But even more importantly, both of our New Jersey self storage facilities will markedly reduce their carbon footprint as a result of using this type of clean energy source."
Since the installation of the panels in April of this year, the clean power generated will provide an impressive 70 to 90 percent of the power needed at each of the New Jersey locations. As energy needs fluctuate in the facilities, the power generated by the panels will be fed back into the public utility grid, providing clean energy to the community. The use of solar panels has resulted in a reduction of emissions from a standard power plant equivalent to 48 cars removed from the road, 31,000 gallons of gasoline saved and planting nearly 100 acres of trees. In addition, the emissions of CO2 (greenhouse gas), NOx and SOx (contributors to smog and acid rain) have been reduced by nearly half a million pounds combined.
"We have always strived to provide the best for our customers, and we are very proud that our emphasis on using green energy is having such a beneficial effect on the community we serve," enthuses Carnes.
For more information on our environmental efforts, click here, or call 866.327.LOCK.
About The Lock Up:
The Lock Up has been serving the storage needs of clients around the country since 1976. With climate-controlled wine storage units, 24-hour security monitoring and carpeted units, The Lock Up self storage facilities are designed to meet the needs of even the choosiest clients.
###