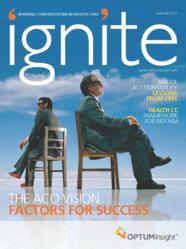 (PRWEB) July 12, 2011
With the release of the Centers for Medicare and Medicaid Services (CMS) draft regulations for the Medicare Shared Savings Program: Accountable Care Organizations (ACOs), a comprehensive vision for collaborative, integrated care delivery has come into sharper focus. At the same time, executives are looking for a resource to learn more about best practices and to gain insights into regulatory changes and other trends shaping these new health delivery models.
OptumInsight – part of Optum – an information and technology-enabled health services business platform serving the broad health marketplace, has re-launched its Ignite publication to help health care executives access some of today's leading thinking on the topic of ACOs and other new health delivery models. The newly revamped magazine – and the online resource center which features its content – includes interviews with executives, policymakers, academics, and other leading authorities.
The summer issue features an article that provides practical guidance for physicians. Realizing the benefits of an ACO depends on a rigorous ramp-up process that addresses physician concerns in four key areas, according to OptumInsight experts who provide insight on how to successfully achieve physician collaboration and buy-in. Dr. Michael Goran, Dr. David Plocher, Pamela Friedman, Anne McCune, and Colleen Thilgen, address physician concerns across a range of areas, including patient attribution, provider profiling, payment and member engagement. The publication also covers other topics, including a provocative Q&A with two of industry's leading proponents of coordinated care models.
Providing health executives with an additional channel for dialogue, the company has also launched a Linkedin community – a forum to connect, learn, and share with others who are leading their organizations through transformational change.
Health professionals can access the Ignite publication by linking to OptumInsight Ignite - Thought Leadership on Accountable Care Organizations and join the community through LinkedIn: Ignite Health Transformation Forum at
http://www.linkedin.com/groups?gid=3959770
About Optum
Optum is an information and technology-enabled health services business platform serving the broad health marketplace, including care providers, plan sponsors, life sciences companies and consumers. Its business units – OptumInsight, OptumHealth and OptumRx – employ more than 30,000 people worldwide who are committed to enabling Sustainable Health Communities. Visit http://www.optum.com for more information.
# # #