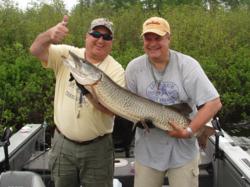 "When it comes to planning a weekend vacation or finding the next outdoor destination, Wild Game Network will be the best place to begin the search."
Ankeny, IA (PRWEB) July 01, 2011
Effectively marketing an outdoor adventure business is often a challenge! An important key to successful business is reaching and keeping customers. Thanks to Wild Game Network (WGN), resort owners can get the biggest bang for the "buck" by advertising on http://www.wildgamenetwork.com. Marketing the outdoor adventure business through Wild Game Network can help maximize the profits and get new customers by keeping a business booked for the entire season.
No other hunting, fishing or camping website provides as much information targeted to the specific interests of outdoorsmen like Wild Game Network. They work with partners who have over 20 years of experience with internet advertising. WGN is an economical, easy to use and customer friendly marketing tool. The maximum investment is less than one day of what Resorts would normally charge to rent the cabin, charter or an outfitting trip. It is important to know, WGN staff will be available to assist owners in setting up and maintaining the listing.
Resort owners have many choices when it comes to advertising their business. There are many reasons why 11,000 Outdoor Adventure Business Owners think Wild Game Network is the best place to be, but the main reason is getting results that business owners can depend upon.
Resorts owners get many features when they advertise on Wild Game Network. The website is in an easy to use customizable 8 page format with a quick set up. Owners can edit and monitor single or multiple listings online, and it takes only 20 – 30 minutes to set up the first listing! Owners can upload up to 7 photos, edit them and adjust rates at anytime. If owners need assistance getting the site up and running WGN staff is available by phone or email. This is a FREE SERVICE included as part of the advertising package. The property information page allows owners to enter a brief description of the property, pick the hours of operation, and create email links as well as keyword identifiers for the internet search engines. The amenities page let's owners choose up to six categories at no additional cost. Within each category, owners will be able to select the species of fish or wild game that customers pursue when they come to the property for their outdoor adventures. Owners can also pick from many different outdoor activities and area attractions such as casinos, water parks, golf courses etc. to let potential guests know what local entertainment options are available. Floor plans and rates can be added and each cabin (theme room) can be individually named. Website links are located on the home page and will provide "one click" access to an owner's existing website (if one is already set up). The listed properties will automatically be placed on the interactive map once the customizable 8 page website is completed. Owners can also list properties they wish to sell and individual resort policies can be listed such as; terms for down payments; refunds; cancellations; etc. These are all valuable tools provided at no additional cost to advertisers.
Owners can't forget the Last Minute Deals page. Wouldn't it be great if Resorts did not have cancellations or vacancies? But the reality is that businesses do! Last Minute Deals allows owners to put specials deals or last minute openings out for everyone to see. The "deals" are up to owners for content and pricing. This really works!
Check out one of the listings; http://www.wildgamenetwork.com/pinepointlodge
For the customers, WGN is designed to be the one-stop location for outdoorsmen looking to book resorts, lodges, outfitters, cabin rentals, campgrounds and sport fishing charters. With quick and easy access to thousands of premier hunting and fishing destinations anyone who likes to hold a rifle or fishing rod in their hand will continue coming back to the site. Using Wild Game Network, that dream walleye-fishing trip in Canada or remote moose hunting trip just became more accessible and affordable.
"Potential guests can spend hours scouring through hundreds of websites, guides and travel brochures and still not find exactly what they are looking for—and they may not find the perfect resort! WGN is constantly updating the site by adding additional locations and including more options to help users find the place where they'll bag their next big bear," says Lynn Worley (aka Walleye Worley), owner of the Wild Game Network. He adds, "When it comes to planning a weekend vacation or finding the next outdoor destination, Wild Game Network will be the best place to begin the search."
WGN distributes to over 300,000 news outlets to promote the site. The internet world is constantly changing and the expense, time and knowledge to keep up with these opportunities can be overwhelming. When trying to find the perfect destination for the next outdoor adventure, customer choices are endless. Now to make it easier we have Wild Game Network.
Visit http://www.WildGameNetwork.com or call 800-251-3240 for more details.
###