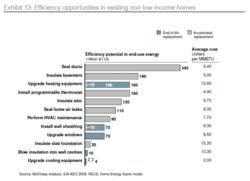 Aerosealing your air ducts has proven to be one of the most effective home energy conservation measures you can take.
East Syracuse, NY (PRWEB) July 06, 2011
A new solution for home owners looking to save energy and significantly reduce their utility bill is hitting the market for the first time in many areas throughout the United States. Developed at Lawrence Berkeley National Laboratory with funding from the EPA and the U.S. Department of Energy among others, the new technology, called Aeroseal, provides an easy and effective way to seal leaky air ducts. According to recent reports, leaky ducts are a primary source of energy loss in as many as 85 percent of existing residential homes.
JMD Corporation recently purchased the exclusive rights to the duct sealing technology and acquired Aeroseal LLC, a company focused exclusively on promoting Aeroseal technology as a primary means of residential and commercial energy conservation. The company recently launched a national campaign to expand its regional dealerships and service providers in order to make Aeroseal services available to homeowners throughout the U.S.
Aeroseal works by sealing duct leaks from the inside of the duct system. Applied as an aerosol mist, the non-toxic spray travels throughout the home's duct work attaching itself to leaks where it accumulates until the hole is sealed. According to Aeroseal, the process is 95 percent effective at sealing air duct leaks.
"Our customers save hundreds of dollars a year on their energy bill, so the application usually pays for itself in just a few short years – and then the rest is money in their pocket," said Neal Walsh, vice president of sales and marketing for Aeroseal. "In addition to saving energy, our customers find that Aeroseal also provides a dramatic increase in their home comfort with more effective cooling and heating in all the rooms throughout the house."
In their 2009 report Unlocking Energy Efficiency in the U.S. Economy, research firm McKinsey and Company ranked sealing ducts at the very top of the list as potential for increased home energy efficiency in existing non-low-income homes. At the same time, the report ranked the application as one of the lowest cost-per BTU saved.
"More than upgrading windows or insulating walls and attics, Aeroseal makes a real difference in improving home energy conservation," said Walsh. "We estimate that on average, 30% of heated and cooled air in residential homes is lost through duct leaks and now there is a simple way to seal those leaks without having to tear into walls or replace expensive duct work."
Aeroseal technology has won a number of prestigious awards including the DOE Energy 100" award from the U.S. Department of Energy and The Best of What's New award from Popular Science Magazine.
With the launch of Aeroseal LLC, the new duct sealing solution will be made available to home owners throughout the U.S. For more information on Aeroseal duct sealing or to find a local Aeroseal service provider visit http://www.aeroseal.com or call (877) 349-3828.
###