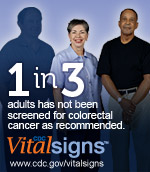 Colon cancer can be prevented, and we are making progress in getting more people screened.
Atlanta, GA (PRWEB) July 06, 2011
Colorectal cancer is the number 2 cancer killer in the US among cancers that affect both men and women and the third most commonly diagnosed cancer. But it doesn't have to be. Screening can find precancerous polyps (abnormal growths) so they can be removed before turning into cancer. Screening can also find colorectal cancer early when it is easiest to treat. Between 2003 and 2007, approximately 66,000 colorectal cancer cases were prevented and 32,000 lives were saved compared to 2002. Half of these prevented cases and deaths were due to screening, according to a new CDC Vital Signs report released today.
The rate of new cases of colorectal cancer fell from 52.3 per 100,000 in 2003 to 45.4 per 100,000 in 2007, representing nearly 66,000 fewer cancers. The colorectal cancer death rate fell from 19.0 per 100,000 in 2003 to 16.7 per 100,000 in 2007, representing nearly 32,000 fewer deaths, the report says. The estimated direct medical cost of colorectal cancer was $14 billion in 2010; for each person who died of colorectal cancer in 2006, the lost productivity costs were $15.3 billion, or about $288,468 per person, the report says.
The report finds that colorectal cancer screening increased overall from 52% in 2002 to 65% in 2010. Still, about 1 in 3 people between the ages of 50 and 75 are not up to date with recommended colorectal cancer screening.
"Colon cancer can be prevented, and we are making progress in getting more people screened," said CDC Director Thomas R. Frieden, M.D., M.P.H. "Those who receive these life-saving screening tests can lead longer, healthier and more productive lives. Saving our nation the health care costs associated with treating colon cancer is an additional benefit."
Screening is recommended for men and women beginning at age 50, using one or a combination of these screenings:

Fecal occult blood test (FOBT), done at home every year,
Flexible sigmoidoscopy, done every five years, with FOBT done every three years,
Colonoscopy, done every 10 years.
The report, published online at http://www.cdc.gov/vitalsigns, used 2002-2010 survey data from the state-level Behavioral Risk Factor Surveillance System to determine the number of people aged 50-75 years who were screened for colorectal cancer.
Data on the number of new cases of colorectal cancer diagnosed during 2003-2007 are from the CDC National Program of Cancer Registries and the National Cancer Institute's Surveillance, Epidemiology, and End Results Program. Cancer deaths are based on information from the CDC National Vital Statistics System.
Significant findings include:

Colorectal cancer death rates decreased significantly in 49 states and Washington, D.C., with the largest declines in states with some of the highest screening prevalence, between 2003 and 2007. Across the nation, death rates decreased by 3% per year between 2003 and 2007.
In 2007, Washington, D.C. reported the highest number of colorectal cancer deaths per 100,000 people (21.1); Montana and Colorado reported the lowest (14.1).
Colorectal cancer incidence rates declined significantly in 35 states between 2003 and 2007. The highest number of colorectal cancer cases per 100,000 people was reported in North Dakota (56.9); Utah had the lowest number of cases (34.3).
To help get more people screened:
The Affordable Care Act will reduce financial barriers to screening by expanding insurance coverage and eliminating co-payments and deductibles. Other efforts are needed, such as developing systems that identify individuals eligible for cancer screening tests, actively encouraging the use of screening tests, and monitoring participation to improve screening rates.
Federal, state and local public health departments can work with the State Primary Care Association or Federally Qualified Health Centers to implement methods for reminding patients and providers about the importance of colorectal cancer screening as recommended by The Guide to Community Preventive Services.
The CDC Colorectal Cancer Control Program funds 25 states and four tribal organizations for the use of population-based approaches to increase screening among men and women aged 50 years and older. Population-based approaches include:
1. Policy and health systems change
2. Outreach
3. Case management
4. Selective provision of direct screening services.
People can:

Know their family history, personal risk factors, and talk to their health care provider about which screening tests they should have as well as whether they should be screened at an earlier age and/or more often than other people.
Contact their local health department to ask about free or low-cost screening if they cannot pay for it or their insurance does not cover it. Visit http://www.cdc.gov/cancer/crccp to learn more.
For more information about CDC efforts to prevent colorectal cancer, visit http://www.cdc.gov/cancer/colorectal and http://www.cdc.gov/screenforlife.
About CDC Vital Signs
Vital Signs is a CDC report that appears on the first Tuesday of the month as part of the CDC journal Morbidity and Mortality Weekly Report, or MMWR. The report provides the latest data and information on key health indicators. These are cancer prevention, obesity, tobacco use, alcohol use, HIV/AIDS, motor vehicle passenger safety, health care-associated infections, cardiovascular health, teen pregnancy, asthma, and food safety.
###