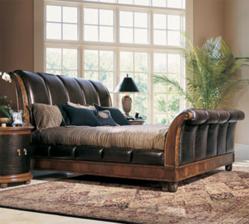 BedroomFurnitureSpot.com is a whole new shopping experience for new and experienced online shoppers alike
Golden, CO (PRWEB) July 01, 2011
The bedroom is one of the most important rooms in the home. Most people spend over a third of their lives sleeping or relaxing on their bedroom furniture. With the affordability of compact home entertainment systems and other conveniences, people may be spending longer stretches of time in the bedroom than ever before. With this in mind it makes sense that more and more people wish to upgrade their bedroom furniture sets to make the bedroom more comfortable, stylish and a generally more pleasant place to hang out. BedroomFurnitureSpot.com, the latest online furniture shopping experience from InteriorMark, LLC, provides customers with an extensive catalog of high quality bedroom furniture from leading manufacturers. With so many choices, customers will have no trouble finding the perfect furniture collections to enhance their bedrooms.
"BedroomFurnitureSpot.com is a whole new shopping experience for new and experienced online shoppers alike", said Kristen Linden, Web Store Manager for BedroomFurnitureSpot.com. Linden went on to say, "This new website has menus and categories that are easy to follow, a robust shopping cart experience that is safe and secure, and knowledgeable sales professionals ready to pick up the phone to answer any questions. We even have a Bedroom Design page full of helpful tips to design and furnish your perfect bedroom".
The menu and navigation system of BedroomFurnitureSpot.com is designed to help customers find the bedroom furniture that they are looking for. Powerful menu systems are in place to help customers search by style, finish or even bed size. Many different bedroom furniture designs are represented on BedroomFurnitureSpot.com. Customers can choose from a range of styles from traditional to contemporary bedroom furniture. BedroomFurnitureSpot.com also features high quality furniture by many of the world's leading manufacturers such as Pulaski Furniture, American Drew and Modloft, to name a few. Every product includes free shipping in the continental United States and optional White Glove Delivery. This special delivery method has your new furniture delivered, brought in your home, assembled and all of the packaging material taken away.
About BedroomFurnitureSpot.com - BedroomFurnitureSpot.com is a division of InteriorMark, LLC, who is the market leading retailer of beds, dressers, armoires and other high quality bedroom furniture. The company offers a wide range of products and services designed to enhance and decorate a bedroom or guest room with the latest designs from leading manufacturers. InteriorMark is a member of the National Home Furnishing Association and Western Home Furnishings Association, and is an A-rated member of the Better Business Bureau.
###