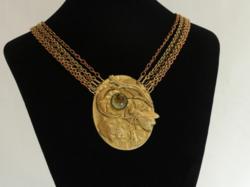 Vestige Jewelry breathes new life into Steampunk fashion.
Austin, TX (PRWEB) July 01, 2011
What many people cast off as junk is recycled into gorgeous and beautiful vintage designs by Vestige Jewelry. Each necklace encompasses Steampunk style and sparkling crystals giving each piece a unique story to tell. The necklaces feature found objects from the Art Deco and Victorian periods repurposed into wearable works of art.
Steampunk is the latest movement in fashion reflecting strength while still appearing feminine and intelligent. The Steampunk sub-culture takes its cues from the Neo-Victorian and Neo-Romanticism era, mostly incorporating science fiction and alternative history-style. Vestige Jewelry breathes new life into this genre by enhancing modern utilitarian objects with sparkle and purpose.
Tracy Glantz, owner and designer of Vestige Jewelry says, "My latest collection was inspired by what has been going on in 2011 and the controversial subject of End Times. The idea of weather modification (HAARP), the Pole Shift, Niburu, UFOs, Elenin, the Mayan Calendar, Fukushima Japan Nuclear Power Plant – all these events add up to – Be Prepared."
Highlights of the Vestige Jewelry Steampunk Space collection include:

Nibiru
HAARP Angel
The Mayan Calendar – represents the sun, moon and stars.
The Pole Shift
Elenin – represents the comet.
To view her latest collection or for purchase information please visit: http://www.VestigeJewelry.com
About Vestige Jewelry:
Founded in May 2010, owner and designer Tracy Glantz of Vestige Jewelry, prides herself on individuality within her designs, keeping a strict focus on the customer experience. When creating each new piece, it all starts with picking out the rarest and most unique, vintage crystals that aren't used in most of today's jewelry designs. Using recycled metals add a dramatic element of contrast. The custom hand-designed pieces bring continuity and function, which can be worn for any occasion. See her latest designs at: http://www.VestigeJewelry.com or watch her channel at: http://www.youtube.com/vestigejewelry
For media relations:
Katie Glantz / 214.538.2631 / JABEYE.com / VestigeJewelry(at)gmail(dot)com
###