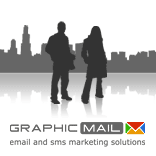 Mobile is a top-performing, universal, affordable marketing and communications tool - ideal for organizations that need to spread the word about their causes, stay in touch with sponsors and donors, and communicate and promote fund-raising event
(PRWEB) July 20, 2011
This week GraphicMail announced the winners for a recent NPO mobile push-marketing campaign competition. Non-profit candidates were required to produce a blueprint of a mobile marketing concept that they envisioned would best benefit their organizations and also tell GraphicMail more about their mission and why they believe that reaching their contacts via mobile marketing would enhance their operations and help achieve their cause.
Winning Non-profit entrants "MedicAlert", the "TB/HIV Care Association" and "The Foundation For A Better Community For All" were first to deliver their campaign ideas. GraphicMail will go on to create the mobile campaigns for these organizations and send it to up to 5000 of their subscribers free of charge. Further training to the companies and their staff on the creation of mobile campaigns will also be provided, along with instructions and insights on how to interpret and utilize reports, statistics and direct user feedback to advance their ongoing mobile marketing promotions.
Says Zoe Fox, a member of the Mashable.com social good team in her just-published round-up of essential mobile marketing tips for non-profits hoping to start their own text-based initiatives; "Text message campaigns are fund-raising miracles. They allow almost any cellphone user to instantly turn his or her support into a donation. It can be challenging to navigate the mobile-giving world. These paper-free, link-free, check-free campaigns rid the donation process of several steps that may dissuade donors from giving."
GraphicMail is no newcomer to digital philanthropy or the Non-profit direct marketing industry. The company's support for Non-profits has been recognized with a prestigious http://www.graphicmail.com/blog/post/2011/01/26/GraphicMailer-scoops-MarketingSherpa-email-award!.aspx [Marketing Sherpa 2011 Email Award __title__ ] for their 2010 Susan G. Komen Global Race for the Cure email campaign.
It's not only large and corporate businesses that benefit from mobile marketing. Mobile is a top-performing, universal, affordable marketing and communications tool - ideal for organizations that need to spread the word about their non-profit causes, stay in touch with sponsors and donors, and communicate and promote fund-raising events. Growing a not-for-profit organization makes use of the same principles as any other industry, though the majority of non-profits don't have the resources or time to engage in significant marketing and contact building activities.
The overall growth of mobile marketing - which allows for succinct, compelling content on a timeous, intimate platform - is predicted to be the most pronounced the US, which will represent 28% of the global market, and Western Europe, which will account for 25%.
About GraphicMail Mobile Marketing:
GraphicMail's comprehensive mobile tools allow end users and white label partners to create text / SMS messages with links to graphic-rich mobile pages and sites, while capturing campaign performance rates and user engagement via forms, polls and survey tools.
See the full NPO http://www.graphicmail.com/blog/post/2011/07/15/Congratulations-to-our-NPO-free-mobile-campaign-winners!.aspx [mobile marketing sponsorship __title__ ] announcement.
###