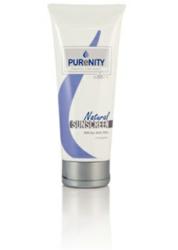 Somis, CA (PRWEB) July 05, 2011
Cleure is proud to announce the official release their highly anticipated broad spectrum sunscreen for sensitive skin, Cleure Natural Sunscreen. Fans of the Cleure skin care line for sensitive skin have been requesting an effective sunscreen that adheres to the Cleure philosophy: products should use only the highest quality ingredients and be free of harmful and irritating additives such as sulfate, paraben, and salicylate. Finally, there is a sunblock for sensitive skin that does just that.
This launch is perfectly timed to coincide with the FDA's new stricter guidelines and restrictions for all sunscreen manufacturers. The FDA is now mandating stricter labeling conventions for sunscreen manufacturers in an effort to increase consumer awareness and empower consumers to make the best choices for their health. Sunscreen manufacturers will now be required to test their products against both ultraviolet A (UVA) and ultraviolet B (UVB) rays, and products with both levels of protection will be labeled broad spectrum.
Cleure is a huge advocate of sun protection and skin health in general, and their new sunscreen is a testament to this commitment. Cleure's sensitive skin sunscreen not only adheres to the new FDA mandates, but it also uses the active ingredients mostly highly recommended by the FDA to ensure consumer protection and overall health. Furthermore, the product was carefully configured to be nourishing and non-irritating to sensitive skin.
ABOUT CLEURE NATURAL SUNSCREEN

Provides FDA-recommended broad spectrum protection using zinc oxide and titanium dioxide, the ingredients rated as the safest and most effective for both UVA and UVB protection by the FDA.
Is non-comedogenic and hypoallergenic
Free of harmful ingredients like sulfate, paraben, and salicylate.
Safe for all skin types, including sensitive skin.
Uses natural ingredients that are well-recognized for their healing and positive effects on the skin and body, including 100% pure shea butter, which smoothes and moisturizes the skin for ideal look, feel, and function.
Made in the USA with absolutely no animal testing.
Safe for all skin types, including sensitive skin.
Comes in 6-oz or travel sized options and is available online at Cleure.com.
ABOUT CLEURE

Cleure was established by Dr. Flora Stay, a dentist and university professor who has been been an authority in skin and dental health the wellness industry for over 30 years.
Cleure started with SLS free dental care products and eventually expanded into skin care for sensitive skin, gluten free makeup, and overall wellness.
Cleure uses only the highest quality ingredients when creating their products and never compromises a customer's skin health when developing their products.
Cleure is committed to helping consumers find the products that are safe and healthy.
Cleure develops fragrance and salicylate free skin care products that are ecologically responsible, hypoallergenic formulas without animal testing.
###