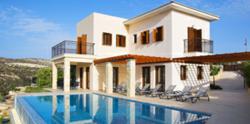 Limassol, Cyprus (PRWEB UK) 18 July 2011
Lanitis Development, the owners of Aphrodite Hills - finest leisure, lifestyle and real estate multi award resort – announced their latest offers and some great deals on exceptional property for sale in Cyprus.
"All the villas and apartments at Aphrodite Hills have so much to offer and make a great investment" says Mr. Andronicos Antoniou, Head of Sales and Marketing at the LDL Real Estate. Mr. Antoniou continues by stating that "Aphrodite Hills is a fully integrated resort community and a low-density development of 700 luxury properties set in 234 hectares of spectacular scenery."
According to the company's management, current owners and future buyers can enjoy the many unique selling points that Aphrodite Hills has to offer such as:

The security of a gated community.
The facilities that the Resort has to offer such as a 5 start InterContinental Hotel, an award winning Spa, an 18-hole golf course and golf academy, a tennis academy, horse riding, biking and nature trails and a village square with shops and restaurants.
The Resort operates two Beach Clubs during the summer months. The Zias Beach Club at Avdimou Beach just 15 minutes away from the hotel and the secluded Cove Beach just right by the Resort's entrance. Both beach clubs offer all the facilities from sun loungers, umbrellas and a small restaurant with a light summer menu and drinks
The Pirates Village kidsclub in an area of 3000m2 and professional trained staff to take care of kids from 6 months to 12 years old.
Magnificent uninterrupted views to the Mediterranean Sea.
Beautiful settings that offer peace and tranquility and probably the best sunset on the island.
Designed by Wimberley Allison Tong & Goo, Aphrodite Hills is constructed on either side of the nature reserve of the Randidi Gorge, built as a number of small villages, in line with the natural, dramatic contours of the area. Communities of mainly townhouses and apartments, plus some villas are located on the Western plateau. Individually specified, private villas are located on the Eastern Plateau.
•A Real Estate team of experts which is ready to assist with all the requests which include architects, sales executives, interior designers, after sales managers etc.

Outstanding real estate opportunities with beautifully designed villas, junior villas and apartments with spacious and light filled living areas offering you a real feeling of seclusion and privacy. Available for sale are a selection of one, two and three bedroom apartments, penthouse apartments, junior villas and villas in a village location as well as premium villas situated on the eastern plateau, on their oversized individual plots offering spectacular landscape and panoramic views from every angle.
Excellent interior design offering high quality Italian-style kitchen units, under floor heating concealed dual air-conditioning/heating, home automation electrics, private heated Jacuzzis and swimming pools with infinity edges and beautiful landscape areas.
A number of attractive schemes and other favourable offers are also available to all exclusive clients.
•A premium programme for all the owners offering a 5% rental guarantee return p.a.
At the same time, Cyprus continues to be a popular investment choice for many people and the island itself continues to elevate and develop itself to a five-star level with its stable economy and well-established tourism and leisure infra-structure that is developing further with investments in four marinas, 11 golf courses, the airports, theme parks and an international conference centre where as Lanitis Development is one of the most respected names in Cypriot real estate! Over the last nine years, the company has successfully completed and delivered over 700 properties and plots, winning a number of awards and accolades and cementing its place as one of the best on the island. The five-star Lanitis owned Aphrodite Hills Resort close to Paphos continues to grow day by day and offers a variety of property for sale.
For more information you may contact:
Aphrodite Hills Real Estate Sales Office
Tel: +357 26 828 050
info(at)lanitisdev(dot)com
http://www.aphroditehills.com
###