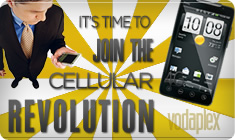 "There has been a fundamental shift in how businesses operate in this new economy," said Todd Spencer, CEO of Vodaplex
Atlanta, GA (PRWEB) July 14, 2011
Vodaplex, a leader in customer acquisition for leading brands in voice and data, announced today that it has been named a National Master Agent Reseller by cloud communications and computing service provider 8x8, Inc (NASDAQ: EGHT). As an 8x8 Master Agent Reseller, Vodaplex offers their agent and reseller partners an opportunity to expand their portfolios with 8x8's award-winning, cloud-based VoIP, video, contact center and hosting solutions, including the 8x8 Virtual Office and Virtual Office Pro services, now in use by over 25,000 businesses.
"There has been a fundamental shift in how businesses operate in this new economy," said Todd Spencer, CEO of Vodaplex. "We are seeing explosive growth in mobile and remote workers. 8x8 helps our business customers easily and cost effectively, deploy IP mobility, regardless of where their distributed employees are working on any given day. We can now address the practice of hoteling at the corporate office with these work anywhere solutions"
In addition to selling 8x8 Virtual Office and Virtual Meeting solutions, Vodaplex also offers 4G Smartphone's bundled with 8x8 Virtual Office service to deliver business customers a cost effective, fully unified, feature rich Mobile Office solution. Vodaplex maintains a diverse portfolio of Direct-To-Home and Direct-To-Business products and bundles including 4G wireless, business class bandwidth, business class phone service, IP merchant services, satellite entertainment services, and enterprise solutions.
"Vodaplex and 8x8 have given me more control over our office by providing me with true mobile integration," said Crystal L. Williams-Johnson, senior accountant at Edward A. Williams & Associates, Ltd. in Chicago, IL. "I can now receive my business voicemails on my Smartphone anytime, instead of being forced to retrieve messages from a physical answering machine or give out my personal cell phone number to clients. I also truly value the ability to control incoming calls by time of day, as well as to have my Smartphone and office phone ring simultaneously, so I never have to worry about setting up call forwarding if I step out. 8x8 and Vodaplex have not only made my business more efficient and more mobile, but they've also cut our business phone bill significantly!"
"We are very pleased to execute a Master Agent Reseller partnership with an established, well respected and leading edge organization like Vodaplex," said Don Trimble, vice president of channel sales at 8x8. "This is an exciting time in the IP communications industry and we look forward to working closely with Vodaplex agents and resellers to help them capitalize on the shift from premise to cloud based solutions utilizing 8x8's robust and well-rounded portfolio of cloud based services."
Vodaplex agents seeking information should contact Vodaplex Channel Manager Mike Hill, 678-317-9000, ext. 7025.
About Vodaplex, Inc.
Vodaplex, Inc. is one of the top outsourced sales companies in the US, acquiring customers for some of the world's leading providers of voice, data, and content through its nationwide network of agent and reseller partners. The company offers a nationwide reseller program and feature-rich Back office platform, providing sales professionals a simple path to profit from today's hottest wireless, satellite, telecommunications, and merchant services technologies. Vodaplex offers a diverse portfolio of direct-to-home and direct-to-business products, as well as unique bundled solutions that present both innovation and value to consumers and businesses. For more information on Vodaplex, visit http://www.vodaplex.com or connect with the company on Facebook.
About 8x8, Inc.
8x8, Inc. (NASDAQ: EGHT), a pioneer in the development of cloud-based VoIP, video, mobile, and unified communications solutions, leverages its patented software technologies to deliver industry-leading SaaS applications to businesses of any size with employees in any location. We offer integrated business communications and cloud computing services that are designed to meet the highest levels of availability, reliability and scalability. Increasingly, businesses are finding they can reduce costs, improve productivity, and be positioned competitively for the future by choosing 8x8 for their mission critical, cloud-based communications and computing needs. For additional information, visit http://www.8x8.com, or connect with 8x8 on Facebook and Twitter.
Vodaplex and the Vodaplex logo are registered trademarks of Vodaplex, Inc. The names of actual companies and products mentioned herein may be the trademarks of their respective owners.
For more information, press only:
Mike Hill
678-317-9000, ext. 7025
mhill(at)vodaplex(dot)com
###