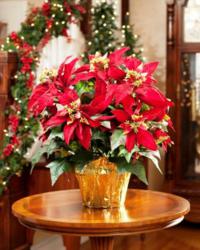 "Think of what you spend and the time you take to water and keep [poinsettias] healthy throughout December. Our poinsettias will look beautiful for years to come and require zero maintenance – as do all of our products.
White Plains, NY (PRWEB) July 05, 2011
A tree won't be the only thing you trim this holiday once you discover the remarkably lifelike silk poinsettia, amaryllis and classic floral arrangements offered by Silkflowers.com. Opting for these top quality permanent botanicals that maintain their beauty for many years will trim your holiday décor budget as well.
"It's fun and festive to add holiday flair to your home while creating family traditions and memories but it doesn't have to be expensive," Tim Hennessy, co-founder of Silkflowers.com said. "Today's quality silk botanicals look more realistic than ever – thanks to new technology – so purchasing holiday silk designs can really help your budget, especially on those classic items you display year after year, such as poinsettias, a centerpiece for your dining room table and an amaryllis for your foyer."
Pleased to announce its holiday collection for 2011, Silkflowers.com will once again offer its best selling Premier Poinsettias, available in in large ($89) and extra large ($149); its eye-catching Poinsettia & Ranunculus Centerpiece ($129) to adorn your holiday dinner table; and its simple yet classic Poinsettia Accent ($45), the perfect finishing touch to a room and the ideal holiday housewarming gift. For large spaces, the company also offers a stunning Poinsettia Fireside Planter ($299) with silk poinsettia blooms, red gladiolus, evergreens, ivy and berries bursting from a handsome 18-inch-wide copper planter.
Silkflowers.com will also feature a host of new holiday designs, many of which feature the amaryllis, another Christmas favorite. "We see holiday décor this year returning to the traditional reds and whites, silver and gold, and berries," Hennessy said. The new designs include the Amaryllis, Rose, Holly and Berry Centerpiece ($149) and the elegant stand-alone Amaryllis ($79), both arranged in a silver ceramic cache pot; the Amaryllis, Ranunculus, Holly and Berry Accent in a square silver ceramic planter ($79); the Gerbera Daisy, Holly and Berry Accent in a silver beaded ceramic ball ($45); the Evergreen, Holly and Berry Accent in a glass vase ($39); the Poinsettia Holly and Berry Centerpiece in a bronze urn ($139); and the Red Berry, Evergreen and Pine Cone Wreath ($89).
Silk botanicals saves time as well; no more watering plants and cleaning up fallen leaves and pine needles. "If you're one of the many who, year after year, decorate your home with poinsettias for the holidays, stop and think of what you spend and the time you take to water and keep the plants healthy throughout December," Hennessy said. "Our poinsettias will look beautiful for years to come and require zero maintenance – as do all of our products."
Set-up is easy, too, with Silkflowers.com. The company expertly packages its products to arrive in perfect shape for instant display right out of the box. (Hint: Save the box to make storage after the holidays effortless, too.)
Silk florals also make wonderful holiday gifts. Silkflowers.com ships directly to the recipient's doorstep and includes a gift card that may be personalized with a message of the sender's choice. Unlike live flowers and plants, silk botanicals won't freeze or wilt due to extreme temperatures if left on a doorstep by a delivery person.
For more information and high resolution photography visit http://www.silkflowers.com/pressroom/. The company is also on Facebook and Twitter and it has as well as a blog, blog.silkflowers.com.
Silkflowers.com is the nation's largest supplier of designer-quality silk botanicals, including floral arrangements, decorative stems, plants and trees. The company proudly offers the widest selection and inventory of beautifully designed silk creations at affordable prices, delivered directly to consumers with utmost care. Silkflowers.com's sister company, OfficeScapesDirect (http://www.Officescapesdirect.com), serves the commercial market in the same manner, offering the widest selection anywhere of designer-quality silk botanicals for business interiors and commercial spaces. Both companies are located in Cincinnati, Ohio, and White Plains, N.Y.
###