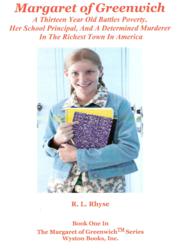 Some people attack life. Others defend themselves from it.
---Margaret

It can be a great advantage to start with nothing.
---Margaret
Warwick, NY (PRWEB) July 12, 2011
In the new Young Adult book series by R. L. Rhyse published by Wyston Books, Inc., thirteen year old Margaret battles poverty, her school principal, and a determined murderer in the richest town in America.
As Margaret's unwanted menstrual celebration party approaches she seems a typical seventh grader of a fourth generation Mormon family. Except that her innocent boyfriend is facing jail, her girlfriend is sleeping with the notorious art teacher, Mr. Cylinder, and she fears that the next body which the police discover will be hers.
But Margaret has allies too: wealthy respectable Aunt Lena, who had been expelled from high school for selling marijuana; a disabled lawyer, her father; the Orisha God, Babaluaiye, her husband; and thirteen year old Randy who is the love of her life.
Within an entertaining fictional framework, the Margaret of Greenwich (TM) series of books explores adolescent conflict with parents, teachers, and peers. The crucial issues of autonomy, friendship, education, and sexuality with which teenagers struggle while creating their own unique identity.
R. L. Rhyse is a former resident of Greenwich, Connecticut which is the wealthiest town in America.
Margaret of Greenwich is the first book in the new Margaret of Greenwich(TM) series published by Wyston Books, Inc. in 2011. It is being produced in both print (US$9.95) and E-book (US$2.99) editions.The E-book is currently available at Amazon,com; and Barnes&Noble.com and it will soon be available in the iBookstore.The print book will be available on July 15, 2011.
Pages: 300
ISBN: 978-0-9832326-2-9 (Print)
ISBN: 978-0-9832326-3-6 (E-book)
###