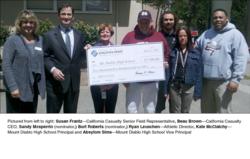 We understand the struggles educators face every day
(PRWEB) July 05, 2011
Shrinking state education budgets, coupled with pressure to improve academic performance, have forced many schools to significantly trim back if not eliminate some athletic programs. The situation concerned California Casualty Management Co. Chairman and past CEO/President Thomas R. Brown, who enjoyed school sports in his youth and understands their impact on self-esteem and leadership development.
"Youth sports teach teamwork, discipline and that hard work pays off," Brown said. "They're a valuable complement to lessons learned in school."
In applying for the grant, Harbor Teacher Preparation Academy (Los Angeles Unified School District) teacher and coach Lindsay John Bell stated he'd spent several thousand dollars out of pocket over four years to support the school's boys baseball team. Harbor is a Title One school with a low-income demographic. The California Casualty Thomas R. Brown Athletics Grant he said, would enable the school to "purchase new bats and other sorely needed equipment the team is lacking." Without funds, the four-year-old team faced discontinuing competition.
California Casualty, provider of group auto and home insurance, has a 60-year relationship with education and school administration associations. "We understand the struggles educators face every day," said Doug Goldberg, First Vice President. "This is our way of giving back."
The ten California Casualty Thomas R. Brown Athletics Grant recipients include:
Harbor Teacher Preparation Academy, Wilmington, CA
Loveland High School, Loveland, CO
Mira Loma High School, Sacramento, CA
Mt. Diablo High School, Concord, CA
Mount Pleasant High School, San Jose, CA
North Salem High School, Salem, OR
Pacific High School, San Bernardino, CA
San Ysidro High School, San Diego, CA
Shadow Ridge High School, Surprise, AZ
Woodland Park High School, Woodland Park, CO
For more information about this program, visit http://www.CalCasAthleticsGrant.com.
Headquartered in San Mateo, CA, with Service Centers in Arizona, Colorado and Kansas, California Casualty is a 97 year-old company providing auto and home insurance products to educators, law enforcement, fire fighters and nurses in 44 states. Learn more at http://www.calcas.com.
###