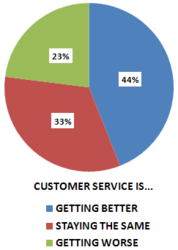 (PRWEB) July 06, 2011
Polaris Marketing Research Inc. announced today the results of its recent study of American consumer perceptions of customer service. Fully one-third of Americans believe "customer service is getting worse" across all of their purchases. Forty-four percent of American consumers believe "customer service is staying the same" and less than one-quarter (23%) believe "customer service is getting better.
Different groups of Americans have differing views:

Males (35%) are slightly more likely than females (30%) to believe customer service is getting worse.
Consumers over 50 years of age are more likely to believe that customer service is getting worse (41%).
Caucasian consumers (36%) are more likely than other ethnicities to believe that customer service is getting worse.
Interestingly, perceptions of customer service did not vary based on household income or education.
"It is somewhat surprising that, with so many companies struggling for survival, the American consumer is still pessimistic about customer service. Treating customers well is a low-cost option for increasing sales and loyalty," said Polaris President Jan Carlson.
Polaris conducted online surveys with a representative sample of 1,000 American consumers during the week of June 20, 2011.
Founded by Jan Carlson, Polaris Marketing Research is a full-service firm that provides state-of-the-art online interactive marketing research reporting, interviewing and data collection, quantitative and qualitative research expertise and personalized project management.
Atlanta-based Polaris Marketing Research is affiliated with the Council of American Survey Research Organizations, the American Marketing Association and the American Society for Quality.
# # #