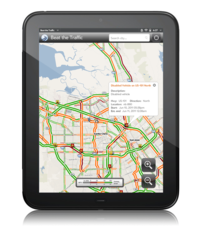 Our commitment is to deliver the richest and most efficient traffic information possible and HP's webOS technology on the TouchPad helps us achieve this goal.
Santa Clara, CA (PRWEB) July 01, 2011
Beat the Traffic®, the leading provider of real-time traffic information for mobile devices, announced today the release of its popular Beat the Traffic® App for the HP TouchPad, HP's first webOS tablet. As with all of Beat the Traffic's popular mobile apps, Beat the Traffic® for TouchPad enables commuters to check up-to the-minute live traffic maps in more than 110 cities in the USA and Canada, featuring detailed information on traffic incidents as well as traffic camera snapshots in 33 major metropolitan areas.
"As one of HP's key partners for the TouchPad's launch, our developer team worked closely with HP to port our popular app to the webOS platform," says Andre Gueziec, president & CEO of Triangle Software LLC, parent company of Beat the Traffic®. "Our commitment is to deliver the richest and most efficient traffic information possible and HP's webOS technology on the TouchPad helps us achieve this goal."
TouchPad will be the first portable device to use Beat the Traffic's new generation of tablet-optimized HTML5 maps, which provide an uncluttered presentation and leverage some of the tablet's technologies such as the location capabilities to center the information on the user's vicinity.
Beat the Traffic for TouchPad is available free of charge and is ad-supported. Beat the Traffic Plus is available for $4.99 and is free of advertisement. Both versions are available to download on the HP webOS App Catalog in the U.S and Canada.
About HP TouchPad
HP TouchPad is part of a growing family of webOS devices designed to keep people better connected.(1) With webOS, HP TouchPad users have a next-level multitasking experience, integrated access to their information with HP Synergy, the ability to find information on the device or the web using the Just Type feature, and unobtrusive notifications.(2) TouchPad is a productivity powerhouse that also offers access to the cloud and entertainment, including movies, TV shows, games, photos, books, magazines and premium audio playback with stereo speakers and Beats Audio™ technology.(3) More information about HP TouchPad is available at http://www.hp.com/touchpad.
About Beat the Traffic
Based in Santa Clara, California, Beat the Traffic® is the fastest growing provider of vehicle traffic reporting solutions in North America. Over one million motorists throughout the U.S. and Canada have downloaded Beat the Traffic's mobile applications, and the Beat the Traffic 3D system and software is currently used by dozens of television stations, cable providers, and newspaper groups for on-air, online and mobile traffic reports. Acclaimed for its visually-striking graphics, simple setup and user-friendly interface, Beat the Traffic is a recipient of the TVTechnology STAR Award as well as Television Broadcast magazine's Top Innovation Award. As the only independent provider in the industry, Beat the Traffic has sustained its rapid expansion via media affiliates by maintaining a relentless focus on technical innovation and state-of-the-art data modeling, coupled with the tools, service, and personalized attention the media needs to deliver a distinguished product in an increasingly "me too" environment. Triangle Software LLC, the parent company of Beat the Traffic, is a National Science Foundation funded early innovator in traffic prediction and presentation science. Beat the Traffic technology is protected by U.S. Patents Nos. 6,989,765, 7,161,497, 7,221,287, 7,375,649, 7,508,321, 7,557,730, 7,610,145, 7,702,452 and 7,880,642 and other pending patents. For more information visit http://www.beatthetraffic.com or http://www.trianglesoftware.com; watch our videos at http://www.youtube.com/beatthetraffic; or follow us on Twitter at http://www.twitter.com/btt3d.
PRESS CONTACT:
Andre Gueziec
408-777-6520
andre(at)beatthetraffic(dot)com
(1) Internet access within wireless coverage area only. Wi-Fi within range of 802.11a/b/g/n Wi-Fi network. Some Wi-Fi hotspots may require fee for usage. Not all web content may be available. Email and related information required for setup and activation.
(2) Within wireless coverage area only. Microsoft Exchange email, contacts, and calendars available for ActiveSync only; requires Microsoft Outlook using Exchange Server 2003 with SP2, Exchange Server 2007, or Exchange Server 2010.
(3) Third-party software available separately. Within wireless coverage area only. Requires data services at additional cost. Not all apps available on all devices.
###