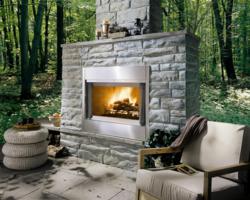 People really want to enjoy their homes at night and during the weekends, and they have realized that an underutilized backyard or patio area is a great place to create a calming refuge.
Paris, KY (PRWEB) July 01, 2011
Chaise lounge. Piña Colada. Palm Trees. Summer Breeze. No, this isn't the scene of a tropical island paradise. In fact, this haven could be hiding right behind the neighbor's sliding glass door. Across the country, Americans are creating outdoor sanctuaries where they can relax, unwind and enjoy the outdoor spaces of their homes, whether solo or with family and friends.
"Outdoor living features continue to gain popularity among homeowners," said Rob Newcombe, vice president of sales and marketing for Majestic. "People really want to enjoy their homes at night and during the weekends, and they have realized that an underutilized backyard or patio area is a great place to create a calming refuge."
According to a recent poll of American Society of Landscape Architects members, some of the most popular outdoor living features for this year include exterior lighting, fire pits/fireplaces, seating/dining areas, grills, installed seating, weatherized outdoor furniture and counter space.* By investing in a few additions to the backyard, homeowners can create an oasis of calm just steps from the back door:

Upgrade the deck: When you're trying to relax and unwind, the last thing you want to do is look at a faded, crumbling deck. Say goodbye to your deck that needs sanding, staining and cleaning ever year. Invest in wood-alternative decking such as Trex Transcend® that looks great, lasts for decades and doesn't need to be maintained year after year. With hues such as Lava Rock and Spiced Rum, you'll feel like you're in a beautiful tropical rainforest with this decking.
Create an outdoor cooking station: Utilize the outdoor space even further by setting up an outdoor mini-kitchen. A complete outdoor grilling station that can cook a full meal will keep everyone's spirits high and lend to the relaxed feeling of your outdoor living area. Vermont Castings' new 501 Signature Series five-burner grill offers four different cooking methods from smoking to baking, so you can enjoy pancakes in the morning or a delicious steak for dinner, using only the grill. The grill's appearance impresses, too –its stainless steel design will resist rust to keep the grilling station looking shiny and new even in harsh weather.
Select comfortable seating: Toss out the folding lawn furniture and invest in pieces that are comfortable and look great. Decide what you will be using your outdoor area for – whether it's lounging and relaxing, entertaining and eating, or both – and pick furniture to suit your needs. Now, you can find luxurious outdoor sofas with soft cushions or sturdy chaise lounge chairs that are perfect for lounging in or entertaining company. Look for wood-alternative, weatherproof items that can resist the elements and don't require sanding, staining or painting to remain looking good over time.
Prepare for cool nights: Extend the seasonal life of your outdoor living space by adding in a heat feature that will carry you through the cool summer nights and brisk fall evenings. Outdoor fireplaces can add warmth to your outdoor area and also serve as the focal point of the space. Look for a fireplace that is easy to operate and will withstand the weather, such as the Al Fresco fireplace from Majestic. This gas fireplace ignites without the hassles of building a fire and its stainless steel frame will create a chic look for your outdoor area.
For more information on Vermont Castings' 501 Signature Series five burner grill visit http://www.vermontcastings.com. For more information about Majestic hearth products visit http://www.majesticproducts.com. For more information on Trex decking visit http://www.trex.com .
About Monessen Hearth Systems Company
Monessen Hearth Systems Company (MHSC) is a leading supplier of hearth and grill products throughout North and South America, Asia and Europe. Under its four brands, Vermont Castings, Majestic, Monessen and Ambient Technologies, MHSC offers a full line of direct vent, natural vent, vent-free, wood-burning and electric fireplaces, inserts, log sets and stoves as well as outdoor grills and heating products. With more than 600 employees and four locations, MHSC is proud to be on the cutting edge of design, efficiency and environmental responsibility.
###