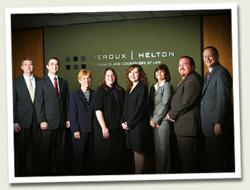 I am pleased with the talented team we have put together. We believe that a strong legal team with a broad range of experience offers an unmatched service to our clients. - Chris Heroux
Tulsa, OK (PRWEB) July 05, 2011
Heroux & Helton PLLC, a Tulsa-based litigation and business law firm, is pleased to announce the addition of Andrea Treiber Cutter, Jaclynn R. Loney and Heather O'Banion as attorneys.
Ms. Cutter is a civil litigator with significant trial experience. She is experienced with every aspect of investigating claims, preparing cases for trial, settlement negotiations, and taking cases to trial. Ms. Cutter also has extensive experience with mediation and arbitration.
Ms. Cutter represents both plaintiffs and defendants in business litigation, handling a variety of cases including breach of contract, consumer protection, oil and gas, commercial fraud, landlord/tenant disputes, first-party insurance disputes (including bad faith cases), patent cases, and immigration rights cases. Ms. Cutter also has experience counseling employers regarding employment issues and representing employers in disputes involving allegations of race, age and gender discrimination.
Throughout her practice, Ms. Cutter has defended her clients in environmental litigation involving allegations of both property damage and personal injury. The toxic tort personal injury cases include allegations of exposure to various substances including benzene, hydrogen sulfide, lead, asbestos and silica, in addition to non-specific "chemical soup" cases. Ms. Cutter represented defendants in the Tar Creek litigation, which consists of numerous cases filed by plaintiffs seeking damages for alleged injuries associated with historic lead and zinc mining operations.
Ms. Cutter also defends clients in class action litigation involving allegations of products liability and breach of contract.
Ms. Cutter is licensed in Oklahoma and Texas. She was named a "Texas Rising Star" in the July 2004 issue of TEXAS MONTHLY magazine. She earned her J.D. in 1994 from Baylor University School of Law, and earned her B.A. cum laude from Trinity University in 1991.
Ms. Loney's practice is primarily focused in the area of general litigation. Ms. Loney is licensed to practice in all Oklahoma State Courts. She is also admitted to practiced in the United States District Courts for Northern and Western Districts of Oklahoma, the Tenth Circuit Court of Appeals, and the Bankruptcy Court for the Northern District of Oklahoma.
Ms. Loney has experience representing individuals and businesses with regard to personal injury, auto accidents/insurance claims, insurance bad faith, construction and contractual disputes.
Ms. Loney grew up in Tulsa, Oklahoma and is a graduate of Oklahoma State University (B.S. 2002) and the Universtiy of Tulsa (J.D. 2006, with highest honors). Some of her accomplishments in law school include receiving the Order of the Curule Chair, Order of the Barrister, and CALI Award for Excellence in Legal Research and Writing, Civil Procedure, and Evidence. Ms. Loney also served on the Energy Law Journal, as Secretary/Treasurer for the Board of Advocates, Vice-Magister for Phi Delta Phi, and Treasurer for the Women's Law Caucus.
Ms. O'Banion focuses her practice in the areas of business planning and transactions, oil & gas and energy law, and commercial real estate. Ms. O'Banion also has extensive experience drafting loan documentation and assisting both large and small businesses with labor and employment compliance.
Ms. O'Banion received her Bachelor of Science in Business Administration, cum laude, from the University of Tulsa in 2002 and her Juris Doctorate, with honor, from the University of Tulsa College of Law in 2005. Some of Ms. O'Banion's accomplishments in law school include serving as the Exchequer and then Magister of Phi Delta Phi and receiving the CALI Award for Excellence in International Trade and Commerce.
About Heroux & Helton PLLC: Heroux Helton is a litigation and business law firm providing services to a wide range of clients throughout Oklahoma and the Southwest United States. The firm has ten attorneys operating from its offices in Tulsa, Oklahoma. Heroux Helton attorneys are regarded as leaders in litigation, corporate, energy, and real estate law. For more information, visit http://www.tulsalawyersandattorneys.com.
###