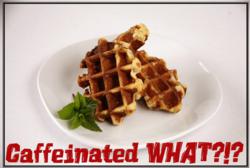 2 1/2 times the caffeine of a can of Red Bull
Seattle, WA (PRWEB) July 05, 2011
While energy drink giants duke it out for first place, Wired Waffles has created its own niche to capitalize on a multibillion dollar market. Seattle based Wired Waffles is announcing a gourmet caffeinated toaster waffle boasting 200mg of caffeine.
Roger Sullivan, Wired Waffle founder and CEO has been in the gourmet coffee industry since 1996 when he went to work for his mentor running an espresso cart. Roger learned the business from the ground up and ten years later started Kokopelli Holdings with his wife Amy, taking them even deeper into this fast paced and competitive market.
"This is a market that is being driven by hard working people needing an edge. Not everyone likes coffee or energy drinks so we are providing a tasty alternative," says Mr. Sullivan, "Getting your morning kick should not be something that is unenjoyable or makes your face contort, it should be delicious, easy and effective. A waffle seemed to just make sense. Microwave it and go!"
The waffle itself is not like anything most people have experienced before. It wasn't enough to just add caffeine to a frozen piece of cardboard. Wired Waffles are traditional liege style waffles, created from an authentic Belgium Recipe. They have a crispy golden brown outside with caramelized pearl sugar and a soft chewy inside that does not need any kind of syrup or toppings. This style of waffle has been sold by street vendors in Belgium for hundreds of years and is as much of a part of their culture as coffee is for the US. Combining the traditions of old world breakfast on the go and the over-exhausted needs of 21st century Americans, Wired Waffles just make sense.
In the early days of this energy market it was predominately the people burning the midnight oil that needed the extra energy coffee provided: truck drivers, college students, graveyard shift workers all looking for that edge to get them through the long night. That's not the case anymore. Energy Drinks are a multibillion dollar a year with explosive growth and longevity. In the fast paced lives of 2011 almost everyone has looked for some sort of pick-me-up. With 2 ½ times the caffeine of a regular can of Red Bull in each waffle, Wired Waffles are not only delicious, they are a front runner in energy delivery.
Roger Sullivan is the founder and CEO of Wired Waffles. The Seattle area based company is aggressively seeking qualified distribution and wholesale relationships in key geographic locations across the US.
###