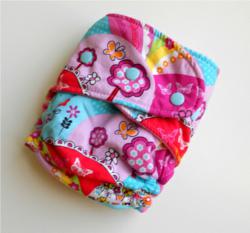 Because it's not always easy to tell how wet a disposable diaper is, babies who wear disposables may sit in their own urine longer than those who wear cloth diapers
Phoenix, AZ (PRWEB) July 20, 2011
A simple Google search will display an array of readily available cloth diapers, most in solid colors with the occasional print. Pico Boo Baby, the Dallas based brand is at the forefront of the green business movement and is filling the gap between eco friendly and fashion forward. Their diapers include a unique sustainable organic bamboo velour topped snap in soaker and a designer print outer with over 15 attractive prints to choose from. A hidden waterproof inner liner gives them the ease of use comparable to a disposable.
"No one wants to wrap their babies' bottom in a drab piece of chemically treated paper that is literally money in the trash anymore, we can offer them a premium quality, handmade in the USA cloth diaper. You can be eco friendly and trendy at the same time. While the initial investment in cloth diapering may be off putting to some, there is a booming resale market, something we like to refer to as pre loved fluff. So who knew? Your diaper investment has a return getting up to 50% back of what you spent in the first place. Can't do that with a disposable." says creative designer and sustainable business owner, Leslie Pico
Over a 3 1/2 year time period, you may end up using over 8,700 disposable diapers on one child, totaling $2358 for discounted name brands and $1862 for generic/store brands. If you have a baby who is large for his/her age, you may pay even more. This is not including disposable wipes. And contrary to popular belief, no diaper -- not even biodegradable ones -- can break down in an airtight landfill. "A landfill is not a composting facility," the California Integrated Waste Management Board says on its website. "Nothing degrades well in a landfill." Disposable diapers make up the third-largest source of solid waste in landfills, after newspapers and food and beverage containers.
Some high-profile proponents of cloth include Actresses Julia Roberts, Maggie Gyllenhaal and musician Dave Matthews all whom have said they used cloth diapers with their children. While there has yet to be a large movement of people making the switch from disposable to cloth it is a niche market experiencing significant growth each year and Pico Boo Baby plans to keep it going.
Pico Boo Baby, LLC was founded in 2011 and is based out of Dallas, TX with a sister office in Phoenix, AZ. They are 100% Family Owned and Operated. All diapers being proudly made in the USA of high quality and organic materials. The small business consists of 5 family members who all work from production to sales and customer service. You can order directly, online at http://www.picoboobaby.com If you'd like more information on this topic, or to schedule an interview, please call Leslie Pico at 623 242 2517 or email leslie(at)picoboobaby(dot)com
###