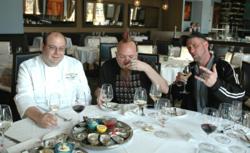 And I love to spread the words about great bands. So I figured why not combine my love of music with my love of great food, and take Skinny with me on one of my video shoots?
(PRWEB) July 06, 2011
Industrial metal band takes on fine French restaurant in the Dinning Invasion.
In the latest installment of Al Mancini's Dinning Invasion show on Food Enquirer, this hard rock band takes over one of Las Vegas' finest restaurants to tear the mask off of cheese tasting and see what it is really all about. So are there any cheeses worthy of the most hardcore rockers on the planet today?
If you haven't been turned onto Food Enquirer's Dinning Invasion with punk rocker and food critic Al Mancini get ready to have your tasted buds blasted with a whole new flavor. The show takes a great look into the culinary world of Las Vegas' uber fine restaurants, tears up the reservation list and puts the best gourmet food in the fingers of today's most loved and notorious for a critique like you have never seen before.
Al Mancini's guests are to include an array of rock stars, DJs, gourmet chefs and porn stars who are all big time foodies at heart. The current episode features the heavy industrial metal band Mushroomhead. Mushroomhead, formed in the Cleveland Warehouse District is of course behind many hits over the last few years, several of which have become part of the soundtracks to big Hollywood movies. Mancini catches up with Mushroomhead on the road as they perform on tour, promoting their latest album 'Beautiful Stories For Ugly Children'. The album features songs 'Your Soul Is Mine' which appears on the Saw VI Soundtrack as well as 'Come On' for which the video has been barred from appearing on network TV.
Drummer Skinny from the band joins Al Mancini for a dinning invasion at the Palazzo's Morels French Steakhouse & Bistro. Though despite the name, there is something quite different in store for the pair's palate today. Chef Robert Barrett takes the two through a fine cheese tasting with a sampling of the restaurant's 50 plus imported cheeses.
Chef Rob Barret takes you on a tour of a unique variety of cheese that many have likely never heard of as well as a little etiquette on how to do a tasting. Can you believe the French serve their cheese just before dessert instead of as an appetizer? Even the crackers are abandoned for pairings with fresh honey comb, dates and walnuts.
Ultimately the chef lives to tell the story of his encounter with Mushroomhead after an introduction to brandy washed cheese, Morbier cheese which is made with a layer of ash and of course parting with a sampling of the restaurant's over 400 wines and champagne. One thing the 3 can agree on is that what they do is all about a passion for their art and you can get a glimpse of it all on Dinning Invasion at http://www.AlMancini.net.
###