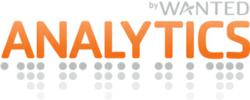 New York, NY (PRWEB) July 13, 2011
WANTED Technologies (TSX-V: WAN), the leading source of real-time business intelligence for the talent marketplace, announced the launch of a new Hiring Scale™ the latest enhancement to the company's industry-leading Analytics™ platform (http://www.wantedanalytics.com).
The new Hiring Scale™ is a free, web-based tool that offers insight into the supply of qualified candidates in the workforce compared to the demand placed on talent pools by employers and recruiting firms in the United States. With this information, employers will be able to quickly assess the level of difficulty in filling any position before they begin the recruitment process.
"By combining hiring demand with estimates of candidate supply, we have provided recruiting professionals with incredible competitive intelligence and hiring demand analytics," said Bruce Murray, president and CEO of WANTED Technologies.
The tool also shows recruiters which other companies currently have job ads listed for similar positions and which organizations have filled them in the past. This feature makes it easy for recruiters to source candidates from companies who have hired similar candidates in the past.
Additionally, for the first time ever, WANTED Analytics introduces a Hiring Scale application designed for the entire workforce. Users can learn the demand for their position in their local area versus the US national average. Also, it will provide insight into employers looking to fill open positions and those companies that have filled similar positions within the past five years.
"Using the Hiring Scale, employers and recruiters can preview job market conditions before they begin their searches," Murray continued. "By identifying if the competition in their local market is high, recruiting efforts can be refocused on related occupations or other geographical areas that may be experiencing less activity."
WANTED Analytics is the leading business intelligence platform for the talent marketplace. Clients use WANTED Analytics to gain real-time insight into the activity in the recruiting space. The company serves organizations in the media, staffing, government and corporate HR sectors.
"We help professionals solve their talent acquisition challenges by providing them instantly with detailed, reliable information that can help them reduce time and expenses on recruiting," said Murray. "Job seekers now have access to these employment trends that could help decrease the time it takes to find a job."
About WANTED Analytics™
WANTED Analytics™ helps recruiting organizations make better decisions faster with real-time business intelligence on jobs, employers, and talent. Analytics brings together, for the first time, years of hiring demand and talent supply data to create a true talent intelligence platform for hard-to-fill positions.
Clients in the staffing, HR, RPO, media, and government sectors use WANTED Analytics™ to find sales leads, analyze employment trends, gather competitive intelligence, forecast economic conditions, and source hard-to-fill positions.
About WANTED Technologies Corporation
WANTED Technologies (TSX-V:WAN) provides real-time business intelligence for the talent marketplace. Founded in 1999, the company's headquarters are in Quebec City, Canada, and it maintains a US-based subsidiary with primary offices in New York City. WANTED began collecting detailed Hiring Demand data in June 2005, and currently maintains a database of more than 600 million unique job listings. For more information or to sample WANTED's services, visit http://www.wantedanalytics.com.
WANTED is also the exclusive data provider for The Conference Board's Help-Wanted OnLine Data Series™, the monthly economic indicator of Hiring Demand in the United States.
The TSX Venture Exchange does not accept responsibility for the adequacy or accuracy of this release. Any statement that appears prospective shall not be interpreted as such.
###