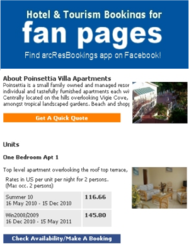 Facebook has surpassed Google in both the number of pages visited and the time users stay on the site. 1000's of top advertisers, including Expedia, are now advertising on Facebook
Halifax, Nova Scotia, Canada (PRWEB) July 06, 2011
AXSES Hotel & Tourism Marketing Platform launches a major upgrade to its Social Media Travel Marketing Application: arcResBookings for Facebook v5.
The new version, which was recently featured in a New York Times survey of Social Media Travel Marketing Solutions, incorporates more social media options with the latest Facebook changes, making it easier for hotels and travel companies to set up Fan pages, offer travel shopping services and to manage brand content on Facebook and Social Media.
This Travel Marketing and Content Management App. is for independent hotels, bed and breakfast inns, guest houses, small hotel chains, car rental companies and all Tourism Operators. It allows tourism companies to engage socially with the growing market of travellers who use Facebook and social sites to shop for holidays, travel activities, accommodation and destinations.
Using Facebook as part of a travel marketing strategy is becoming essential, as many travelers are comfortable getting reviews and advice from their Facebook friends and like to receive and share news on special travel deals and promotions. Travellers interested in planning a holiday are increasingly looking for companies they find on a Facebook Search. Getting an instant quote, seeing the hotel rooms and packages, getting special deals and being able to book a hotel room or a vacation activity right from a Facebook page, makes it easy to do business.
Facebook is an environment that traveler trust. It is a very powerful marketing force, outpacing Google in the number of pages viewed and the length of time consumers stay on the site. For that reason 1000's of top advertisers, including Expedia, are now advertising on Facebook. Now even small travel companies can promote their brands, offer and travel deals and advertise on Facebook and 100's of sites automatically, with the arcRes Publishing and Travel Marketing platform from AXSES.
Communicating with Fans is made easier. arcResBookings.com is designed specifically for marketing hotel and tourism brands and building direct sales and sustainable brand integrity for travel suppliers. It automates social engagement, updates, special, packages, travel shopping, quotes, bookings and manages all content changes in a single central cloud based service that is also integrated with thousands of other sites and social media services..
While arcResBookings help hotels and tourism brands market to and engage with Facebook users, it also save time and resources as it loads and manages all tourism content. This saves hotel staff hours of work in setting up a social presence, building Fan Pages and maintaining good content. To keep content fresh and interesting, arcResBookings also publishes Specials and Packages to Fan pages, giving Fans more reason to check the page for the latest news and keep in contact.
ABOUT AXSES
AXSES was one of the very first travel companies to develop a hotel and tourism centered Facebook Application for direct travel bookings.The company develops software for tourism operators, hotels and destinations. Its Tourism Marketing Platform includes social marketing for travel, mobile travel bookings website for hotels, smartphone application that promote direct bookings to hotels and tourism, tourism video blogging, article marketing and travel publishing.
AXSES mission is to help hotels and tourism operators increase direct business and build strong sustainable brands. The AXSES development team of a dozen skilled knowledge works and programmers is located in Barbados, one of the best places in the world to live, work and visit.
To get more information about arcResBooking, Facebook Travel Marketing Application,
Hotels and tourism operators can at http://facebook.arcres.biz
Individuals and members of the press wishing more details on this press release will find contact information below.
Ian R Clayton
AXSES Tourism Development
http://Tourism-Marketing-Platform.com
Telephone: 246.429.2653
Email: iclayton(at)axses(dot)com
###