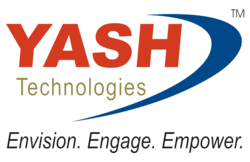 Woburn, MA (PRWEB) July 06, 2011
YASH Technologies, a leading technology services and outsourcing partner for global companies, today announced that it will host an informative in-person session around accelerating contract renewals and revenue recognition process for optimal business performance on Tuesday, July 12, 2011, from 3—5 pm. The session will be held at Access Northeast, 34 Saint Martin Drive, Suite 22, in Marlborough, Massachusetts.
Session speaker, John Munsch, Solutions Engineer for YASH Technologies, will discuss challenges of managing complex contracts and revenue recognition processes and success strategies for achieving a streamlined, compliant revenue process.
Attendees will learn how to:

Receive full visibility of historical data to create an efficient renewal process
Improve compliance by streamlining the key areas of revenue recognition-perpetual licenses, support, and maintenance
Gain a complete audit trail with drill down capabilities. In addition, Debbie Scott, Industry Solutions Engineer from SAP® will be available to answer audience questions.
The event will include a welcome reception from 3—3:15 pm; main presentation and live demo from 3:15-4:15 of TechOne, a prepackaged SAP® ERP Business All-in-One solution created by YASH Technologies; and cocktails, hors d'oeuvres, and a tour of Access Northeast's state-of-the-art data center from 4:14—5 pm.
As a bonus, all attendees will be entered to win an iPad 2. Winner will be selected and awarded the iPad 2 at the event and must be present to win. Registration is required. To register, please visit https://attendmyevent.com/Invite.aspx?code=600279.
For more information please visit http://www.yash.com/aio or email info(at)yash(dot)com.
About YASH Technologies
YASH Technologies focuses on customer success. As a leading technology services and outsourcing partner for medium and large global customers, we leverage technology and our flexible delivery models to drive performance and business value throughout a customer's enterprise. YASH's comprehensive service approach incorporates a holistic view of our customers that extends beyond delivery. This approach integrates enterprise solutions and services, proprietary best practice offerings, strategic application and maintenance outsourcing, as well as consulting and integration services. YASH is a SEI CMMI (Level 3) and an ISO 9001:2008 certified company with U.S. and India headquarters and regional sales and development offices spread across three continents. YASH is also part of a select group of companies that are SAP-certified global providers of application management services. For more information, please visit http://www.yash.com or email info(at)yash(dot)com.
SAP and all SAP logos are trademarks or registered trademarks of SAP AG in Germany and in several other countries.
All other product and service names mentioned are the trademarks of their respective companies.
###